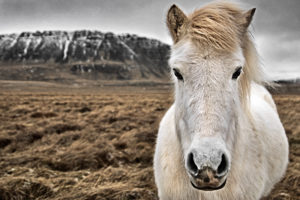 Iceland, according to the Institute for Economics and Peace, is the most peaceful country in the world. It is home to just under 350,000 people and is also the most sparsely populated country in Europe. For an island with an area of 103,000 sq. km (40,000 sq. mi), this country has everything from volcanoes to geysers to fields of green moss that takes hundreds of years to grow to majestic waterfalls.
Geologically, Iceland is part of the Mid-Atlantic Ridge. This ridge marks the boundary between the Eurasian and North American tectonic plates. What is especially amazing about this area is that you can scuba dive (or as a day tour) in between these plates to see some fascinating marine life, be in the spot that Iceland was created and, in some places, actually touch both continents at the same time. This rift, called the Silfra rift, has visibility that exceeds 100m, making it the some of the clearest water in the world.
Iceland is a world leader in renewable energy. Almost all electricity in Iceland is produced using renewable energy sources. According to Inspired by Iceland (the country's tourism website), 90% of Icelandic households are heated with geothermal water. About 73% of electricity is provided by hydro power plants and 26% from geothermal energy, accounting for over 99% of all electricity consumption in Iceland. And although modes of transportation in Iceland still use conventional fuel, there is a growing number of electric vehicles in the country.
Tourism is Iceland's largest export sector as it accounted for more than 10% of the country's GDP in 2017. It is among the countries in the world who are most dependent on tourism. Read More >