The more special your travel dream, the more we can help you get there! That has been the motto of the Great Canadian Travel Company since its beginnings in 1980 and was when I became associated with the company. I had a dream travel destination – Africa, and more specifically the legendary Timbuktu. Great Canadian Travel has since provided me the opportunity to travel to Africa on more than 30 occasions. My dream has earned me the designation of Africa Expert in the company.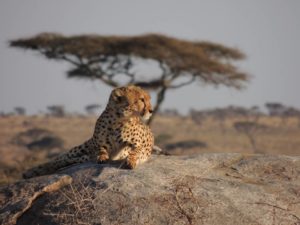 My passion for Africa has enabled Great Canadian Travel to become a leader in planning African safaris.  Through developing close relationships with leading Africa tour companies and with first hand safari experiences, we provide you with expert and reliable travel advice and special pricing.
Africa is a huge and diverse continent.  We are able to guide you through your key questions:  where to travel in Africa, when to travel, what type of safari, budget and other concerns.
To make you're planning easier, in 2017, Great Canadian Travel is offering group departures to Africa's most sought after safaris destinations Botswana and Tanzania. Some of these trips are escorted by me, others by experienced Great Canadian staff and are being offered at special pricing not generally available.
Why Botswana? An uncrowded wilderness experience
February and March is winter in Canada, however it is summer in Southern Africa. These months are considered the green season and value priced for safaris. The Great Canadian Travel Company has put together a 6 night safaris in Botswana at high end camps (add on available for additional nights at other camps), Victoria Falls, and touring in South Africa. (see our website for trip details and departure dates) . I have been fortunate to lead groups to this area for the past 3 years in February. These fly in safaris are unsurpassed value as we use luxury camps on private concessions, open vehicles and off- roading which provide excellent photographic opportunities .The green season brings an abundance of game, births, babies, breeding and predators.  Also, summer migrant birds are present in breeding plumage. Cape Town provides a long stay getaway from our Canadian winters. Last February I spent 3 weeks in Cape Town enjoying the summer weather, beaches, inexpensive food, drink and excellent local transportation.  Group departures are available in February and March 2017, but individual trips can be planned on a daily basis.
Why Tanzania?  In May we venture into Tanzania to witness one of the wonders of the world, the annual migration.
Why May? The month of May is a green season in the Serengeti, just following the rains and considered a low season for tourists which also mean value pricing. The Serengeti's wildebeest and zebra move north and west, migrating to seek fresh grazing and water. Our designed safaris takes you to the Grumeti area of the western Serengeti where we hope to catch the massive herds of wildebeest congregating on the south side of the Grumeti River, representing an annual feast for crocodiles. Last May accompanying a safaris group, we followed the migration for days and waited in anticipation for the river crossing. As the group settled into pre dinner drinks to discusses our safaris day the general agreement was that it is impossible to describe the scene of movement and noises -, you must experience.  The vast numbers of animals, the young calves born in February are now playful but also provide abundant meals for the lion and other lurking predators. You go to sleep to the accompaniment of "gnuing" of wildebeest interrupted by the calls of hyenas or lions. Do consider joining us this year. Zanzibar, mountain gorillas, are just some add on possibilities to the 10 day safaris.  Individual trips to witness the migration require expert planning in choosing camp location as the migration is a constant year round  movement.
And, I have realized my dream to get to Timbuktu  –  twice and nearly 3 times!