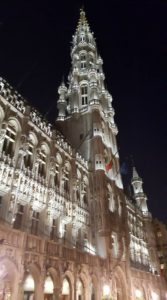 As part of a recent trip to the UK, we decided to add on a few days in a country we knew little about – Belgium! Now our families were a little afraid of us visiting in the aftermath of the airport and city bombings, however this did not deter us from visiting. We booked a cute little guesthouse about 2 blocks away from the Grand Place and we were on our way!
We took the Eurostart from Ebbsfleet in southern England to Brussels, this took just about 3 hours. We arrived and couldn't wait to start exploring. We joined a free walking tour that started from the Grand Place and had a great guide who was a student from Mexico! He showed us many of the best sights in the city including the Grand Place, Tin Tin's wall, Manneken Pis, Saint Hubert's Galleries, the Royal Palace and much more. This tour lasted about 2.5 hours, and was well worth the time.
The next day we took a pre-planned and pre-booked trip to Luxembourg by motorcoach (this can also be done by train). This is quite a long day, as it was 3 hours of driving each way, however the little country was a delightful place to spend the day. We visited the Notre-Dame Cathedral, the Royal Palace and the Place d'Armes. On the way back to Brussels, we also visited the little town of Dinant, which has a beautiful cathedral, but was also the home of Adolphe Sax – the inventor of the saxophone. This was very evident as saxophones line the main bridge.
The next day, we took the train on our own to Brugges. This was our first encounter with Brussels Central Station, where some of the bombings had taken place. We did see armed military guards on most platforms, and at all doors, however I never once felt unsafe. This was true for the whole country – I never once felt unsafe or unwelcomed in Brussels or Belgium. In Brugge we walked the old town and took a canal cruise. This is the best way to see the city at a very reasonable price. We had some of the famous French fries, and then made our way back to Brussels by train.
Belgium is a great place to visit, with friendly people, great food and incredible architecture.