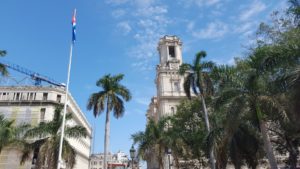 We booked an All-Inclusive package to Varadero and everyone was telling us to make sure we visit Havana! We are very interested travelers, and have lots of questions. We like learning about the people, the economy and history of a place, and sometimes like to have a guide all to ourselves! We booked a private tour for a day trip to Havana. We booked this prior to leaving Canada, however with the government restrictions, we were unable to pre-pay it, we needed to pay cash (either USD or Cuban pesos – USD preferred) on the tour day.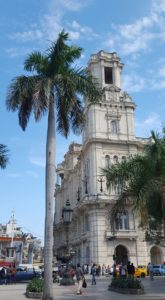 Our guide, Jay, a young man who was a former university professor (couldn't have hand picked a better guide for us!!) picked us up promptly from our resort at 8:00am in a very well maintained late model Mercedes Benz sedan. This car was not his, it belonged to the company, but he and another guide share use and maintenance on it. Jay first stopped at and accompanied me into a bank as I needed more money, he politely waited to the side as I put in my personal details but was handy enough that I could rely on him if I had any language difficulties.
We were on our way to Havana! We learned a lot about Jay, his family, his girlfriend and his life. Some of the info wasn't the happy fun stories that people like to hear, but we really feel that we got to know him and a lot about his country.
Our first stop on arrival in Havana was a Tobacco factory. Jay accompanied us to the front door, waited with us while we waited for our tour to start, and then told us he would be waiting in the rum bar next door when we were finished. The tour was incredible, we got to see a really neat trade in action. As promised, Jay was in the rum bar next door and he asked if we wanted to buy any souvenirs. With his help, we selected a few items, and we were on our way.
Traffic was a nightmare – even by Cuban standards! The day we picked to visit Havana, was also the day that Barack Obama made his historic visit to Havana, so security was tight everywhere and traffic was re-routed in many areas. Jay handled this like pro – like he had lived there his whole life. While in reality, if they don't live in Havana, many Cubans will go all their lives and never visit the city as it near impossible to get there for them.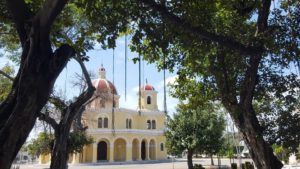 Next we visited Revolution Square, and then we were off for lunch at a quiet, out of the way traditional Cuban restaurant. Now food in Cuba normally gets a bad rap, however traditional Cuban food is a whole other story! Extremely reasonable pricing for incredible food!
After lunch, Jay took us to Christopher Columbus Cemetery (admission was not included, we paid this locally) and took us inside the Church. The Cuban people are extremely religious and Jay was no exception. He explained some customs and rituals to us before taking some time to detail his car while we wandered around the beautiful grounds on our own.
Once finished there, Jay took us to the world famous Malecon, and did a short tour before parking the car and getting us ready for a walking tour in the windy streets of Havana. We saw many amazing sites including the Opera House and Hotel Ambos Mundos (where Ernest Hemingway was a regular!).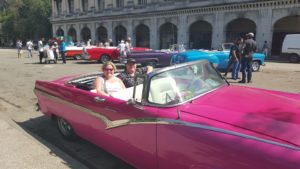 At the beginning of this tour Jay left us to enjoy the sights and sounds of Central Park while he negotiated the next part of our tour – a ride in a classic car! Something Cuba is famous for. To my absolute delight, and with no prior knowledge of what I was hoping for, he arranged our ride in a classic pink convertible – this made my day!
Jay came along with us a translator, but we saw even more of authentic Havana during this trip, and were definitely appreciative of having Jay with his due to the language barrier. This also played true during the tour. It is expected in Cuba, as in many other countries that people will come up to tourists, who they presume are rich, and ask for money. Jay was very helpful with communicating with these people and helping us feel comfortable.
After a long hot day touring the city with Jay, we loaded back into the car for the drive back to our hotel – but not before a stop at the amazing Bacunayagua bridge with beautiful views and even better pina coladas served in pineapples!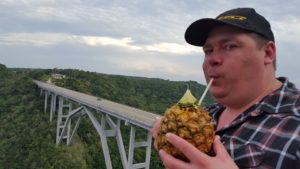 Jay brought us safely back to our hotel, let us know that we should go watch the entertainment at our hotel tonight as his girlfriend was playing violin (we did – she was amazing!), we hugged and Jay was on his way.
We truly feel we were able to see a side of Cuba and Havana that we would have missed out on had we taken the big bus tour in Havana. Jay gave us amazing personalized service and made us feel comfortable and welcomed in his country. We learned so much about the people, history and culture of Cuba, and it will definitely not be our last time there.