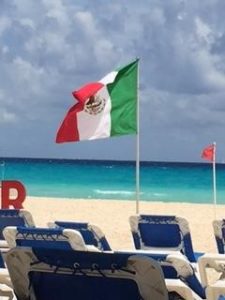 Travelling during a destination's off season has both benefits and drawbacks; prices are lower and attractions less crowded, but there can be risk of being swept away by a hurricane. We were fortunate that this year's major storms missed us on the Yucatan Peninsula, although we did have three days of quite heavy rain.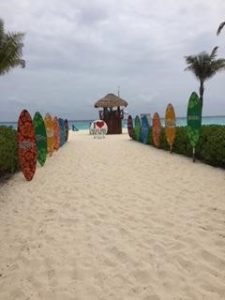 Transat flights Edmonton to Cancun are operated by Flair Airlines on B737-400 aircraft. We were pleasantly surprised at the amount of room we had in our seats, and Transat caps capacity so the flight is never completely full. There is no onboard entertainment, but Airtransat.com provides information on an app which allows clients to load movies on their devices in advance. Food is offered for purchase on board unless pre-ordered. Flights connect in Calgary, but the stop is very brief.
Playacar is a gated resort area in the Mayan Riviera, located on the south side of Playa del Carman. It consists of large all-inclusive hotels, a golf course, and beautiful vacation homes. Count on more than an hour long transfer from Cancun airport, which can seem long. However, it is then a shorter ride to attractions south of the city such as Tulum and Xel Ha.
Playacar Beach runs from the Cozumel ferry dock in Playa del Carman along the entire neighbourhood. Sandos Playacar is the southernmost resort on this relatively fine white sand beachfront. Although guests still deal with some seaweed, it is not extreme. During windy weather waves may be quite large, as this area is open to the Caribbean Sea. Being very family-friendly, Sandos decorates the beach in a different theme each day, and guests may participate in various games and activities.
Sandos Playacar consists of over 800 rooms divided into various sections: beach, family, adult only, and Royal Elite (timeshare). Significant amenities are provided to Royal Elite members, but we were not approached once about purchasing a membership. Our room was located in the adult only section which is furthest from the beach, about a 10 minute walk. The adult section offers its own pool and swim-up bar, as well as separate breakfast buffet. Several pools are located throughout the property, including a main area where games and activities take place. Shuttles constantly circle to transport people around the expansive grounds. Rooms are clean and comfortable with the somewhat standard amenities of in-room safe, mini fridge stocked with beer and soft drinks, terrace or balcony, and shower-only bathroom. Upgraded rooms offer extras such as bathrobes, jetted tubs, and in-room wifi. (Wifi is regularly available in the lobby and other designated areas.)
Most surprising to me at this four-star resort was the variety and quality of the food. There are seven a la carte venues including dinner options of Italian, Argentine, Brazilian, Mexican, Asian, and French cuisine. We tried all but the Argentine and Mexican restaurants and found the selection, presentation, and quality was excellent. Reservations are not required, but we did arrive early to avoid lineups that seemed to begin around 8:00pm. Even the buffets consist of plentiful fresh offerings.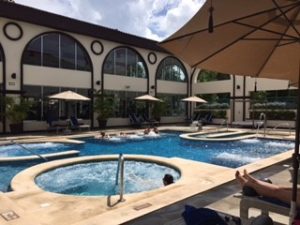 The spa at Sandos Playacar is a lovely retreat offering a full service menu. The adjacent adult-only pool area includes a sauna, steam room, and jetted cool and hot tubs, available at no extra cost. Those interested in working out will find the spacious gym more than adequate. Family-friendly activities include mini-golf and an eco-park. Kids and Teens clubs make this property an attractive choice for families of all ages. Evening entertainment is open to all ages.
Sandos is an environmentally conscious company and employs socially responsible practices within its resorts. Initiatives such as using and recycling plastic cups for pool and beach drinks, refraining from using straws, and replacing tablecloths with vinyl place-mats are small changes that add up to make a positive difference. There is an animal rescue program which includes spaying or neutering and housing felines at "Cat City" (I was thrilled!)
I would happily return to this property, but most likely outside high season to avoid the crowds when it is at capacity.