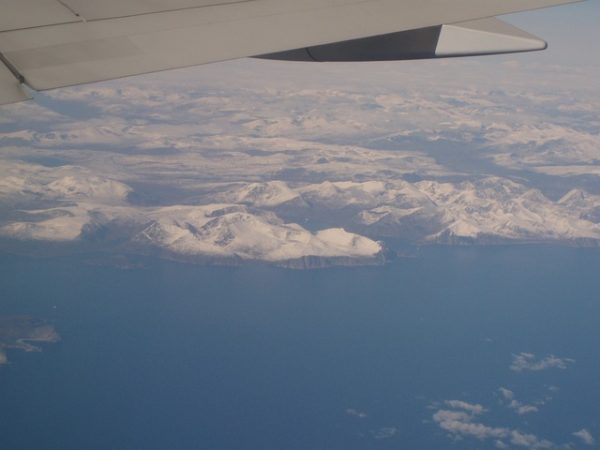 I was so excited to visit West Greenland.  I departed Copenhagen airport, and flew with Air Greenland to Kangerlussaq, Greenland.  Kanglerlussaq is a nice little village in the heart of Western Greenland.  It has a well-equipped international airport as it was formally a US Airbase.  For the larger planes arriving from Denmark, this is the only place in Greenland they are able to land.  Once we arrived in Kangerlussuaq, we had about 3 hours to wait until our next flight north to Ilullisat left.  There is not much in the way of airport security if you are travelling domestically in Greenland – nothing at all in fact!  We went outside and did a little walking tour of the area including some really unique gift shops and the local police station.  When it was time to meet our flight, we made our way back into the airport and readied ourselves for our flight north!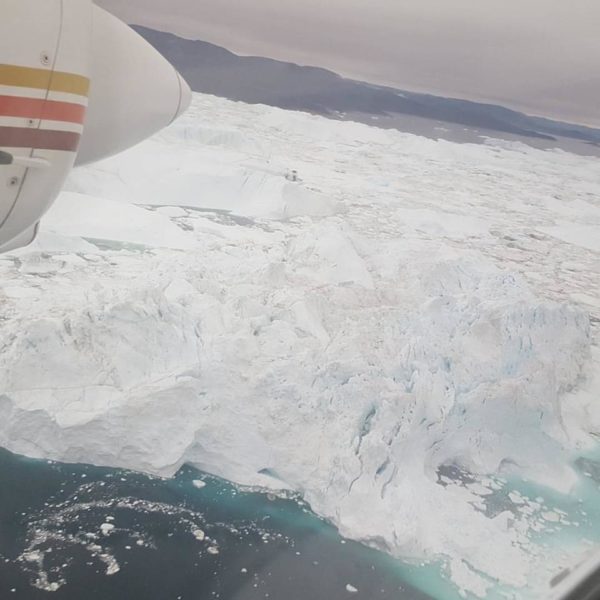 We boarded a smaller plane (29 seats) with scramble seating and took off!  If possible, I highly recommend trying to get a window seat for any flight within Greenland – the views are worth it!  On arrival in Ilulissat, we retrieved our bags, and were met and transferred to the Hotel Arctic.  Hotel Arctic is known as the most northerly 4 star hotel.  It is quite literally on the edge of the Ilullisat Ice Fjord – stunning views to be had everywhere!  We had a quick lunch buffet (which included a yummy Bison curry!) and changed into our rain gear and were transferred to Sermermiut settlement for a nice walk to get a great view of the ice fjord – it was worth it!!  There is a nice boardwalk that has been constructed which means the walk can be done by most anyone.  To get the best views of the ice fjord there is the necessity of climbing on some rocks, but the walk itself is great!  We spent some time just enjoying the amazing view – I had a hard time believing that this place was real!
We quickly made our way back to the start of the trail and were split into 3 groups for our next adventure – a flight seeing tour OVER the ice fjord!  I was really lucky to be in group 3.  The first group departed right away, and we were transferred back to the hotel for a little down time.  When it came time for my group to leave the hotel, we met up with group number 2 and they had seen humpback whales playing in amongst the ice!  How amazing is that!  My group was so excited, and we couldn't wait to see if we would see the whales too.  Our pilot knew exactly where to go, and soon we found the whales!  A mom and a larger calf, just enjoying their time in the ice. I felt so privileged to be able to see a sight like this.  We spent about 40 minutes flying low among the ice, seeing the ice fjord from this angle really puts it into perspective just how large it is!
Once we were finished our incredible flight, we returned to the hotel to join the rest of our group in the hotel.  It was an early night for us after a long day – we were still on Denmark time and the jetlag and the excitement of the day were taking their toll on us!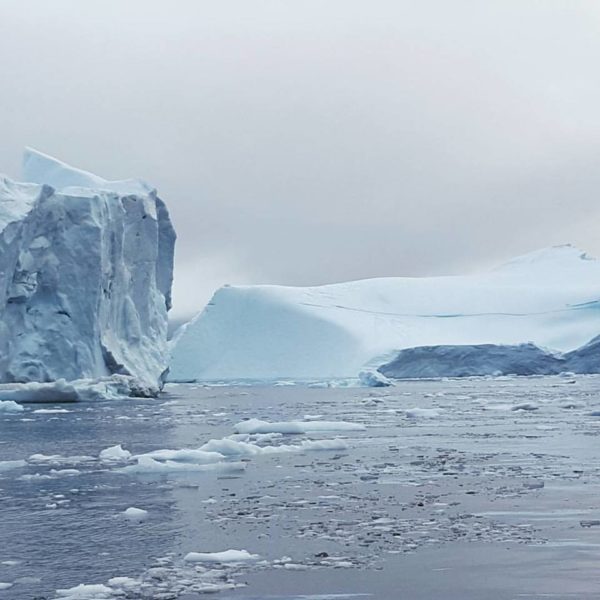 The next morning, we woke up to big fluffy snowflakes falling!  It felt so magical – the snow falling with the icebergs in the distance, I thought sights like this could only exist in dreams!  After a hearty breakfast, our group packed up and made our way to the pier to meet our boat from Diskoline to transfer us north to Oqaatsut (Danish name is Rodebay).  This is a very small community about 45 minutes by boat north of Ilullisat with a population of only about 40 people.  This community has a bed and breakfast, one restaurant, a small school with only three pupils and a sea kayaking company. This was the purpose of our trip – kayaking.  I opted to sit out this activity, however this gave me time to explore the little village and really get a feel for the community.  We enjoyed lunch in the only restaurant in the community – H8.  This is a converted home with a few tables and a stunning view of the bay.  We had many types of fish – smoked, baked, fried, dried … everything you could think of!  The local lady that runs the restaurant truly created an amazing experience for us.  Once we were finished, we made our way back to our boat, and headed south to the next stop on our tour – Ilimanaq.
On the way, we were treated to amazing sights in all directions.  Travelling between towering icebergs, and as we neared our destination, our boat captain stopped the boat completely.  We weren't sure why, but we knew it had to be special!  Just off the bow of the boat we had a lone humpback whale leisurely playing in the water.  We were so luck to see this young whale just enjoying some playtime, this was one of the moments when I really realized where I was.  This is an everyday occurrence here in Greenland, but for someone who lives thousands of kilometres from the nearest ocean, it truly was once in a lifetime.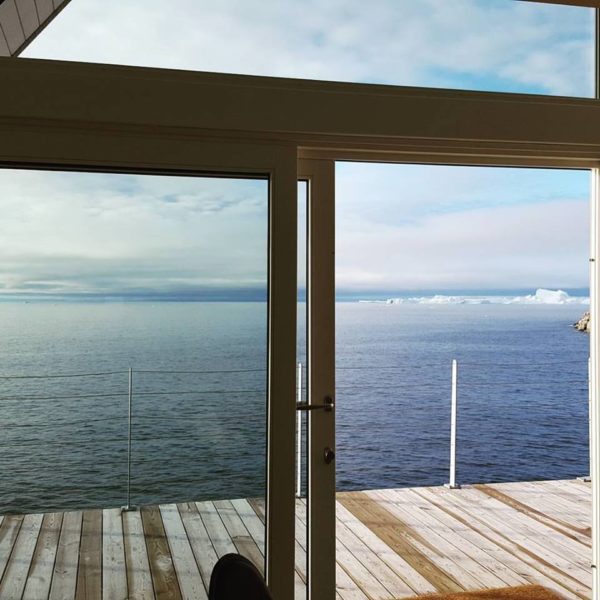 After that excitement, we travelled a short distance and arrived in the village of Ililmanq.  Ilimanaq is community of about 80 people.  There is a luxury lodge (only accommodation available) which includes a restaurant and conference facility, a church, a small school with six students and a small store.  Ilimanaq Lodge was brand new for summer of 2017, and we were really lucky to get to experience it.  The lodge is really 15 individual lodge buildings that all have an unobstructed view out to the sea, icebergs, whales, sunsets, etc. Again, a place I couldn't imagine existed!  We were all given keys to our own lodges, and I was in lodge 4, which was called Juuka. The entire front of the lodge is glass, and there are gorgeous decks so you can sit and enjoy the view.  There are no tvs, no wifi – but really with the view surrounding us, you absolutely do not need those, nor did I miss it!
The company operating the lodge also has operations of the restaurant and conference centre.  They took 2 buildings from the late 1700's and restored them in true form.  The restaurant food and service quality truly rivals any top class restaurant in London, Paris or New York.  To get that service and quality while we were so isolated from the outside world was incredible.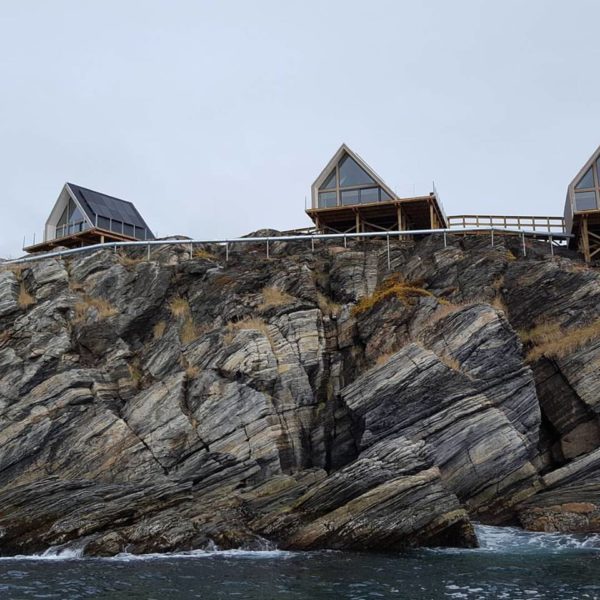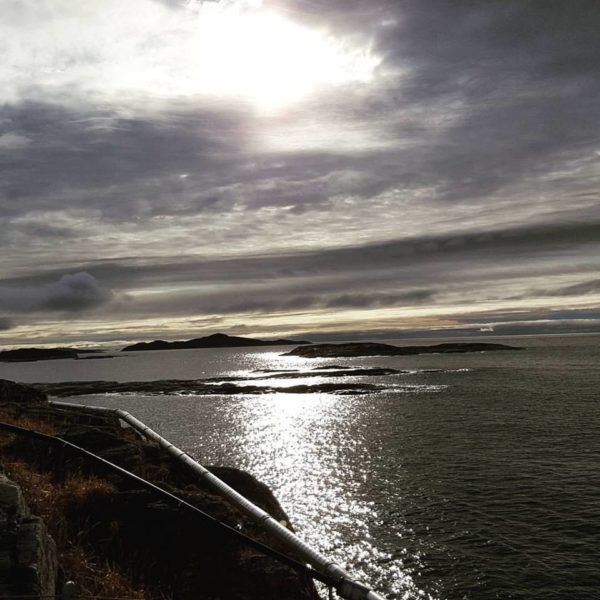 After dinner we had time to enjoy our lodges and falling asleep to the sound of the icebergs calving … unreal!  In the morning, after a filling breakfast, we again boarded our boat to head even further south to the community of Qasigiannguit which has an amazing museum that is a great to see how live was in the early days.  After a short walking tour and a delicious lunch at Hotel Disko Bay, we boarded our boat once more for our final destination of the day Aasiaat.
Aasiaat is one of the larger communities in Greenland – 5th most populous, with a population of approx. 3200.  It felt nice to be back into a civilization!  On arrival, we enjoyed a walking tour of this town – it almost felt like a city compared to where we had been the last few days! At the end of our tour we found a bench on higher ground and sat to watch the ocean.  Our guide said that Aasiaat is also known as 'Town of the Whales' and it is almost guaranteed to see whales.  Guaranteeing to see wildlife is a little risky, but not long after, we saw about six Fin whales playing in the harbour.  The guarantee works I guess!
Once we finished our walking tour, we made our way to a local home for a Greenlandic experience called a Kaffe Mik. Essentially, we were invited into a local's home for cake and coffee, and we could ask questions and learn about the couple and the area.  We were with a lovely couple, he was Greenlandic, and she was Danish.  I had a special connection with them as their daughter now lives in Canada, so they were very excited to have a Canadian in their home.  Once finished this unique experience, our hosts then joined us for dinner at one of the restaurants in town.  Now the host of this dinner – she truly outdid herself!  We had everything you could imagine!!  Reindeer, lamb, whale, several types of fish, scallops, crab, roe and so much more!  We felt so welcomed and couldn't stop eating!  Once we were finished, the huge buffet was cleared and a Greenlandic rock band came into entertain us!  Such a great night of dancing and having fun!!
The next morning, we enjoyed a visit to the local museum, and a visit to a sled dog compound.  One of my favorite experiences on this trip was when a local community club found out that our small group was in town, they invited us in for cake!  They also sang us 2 songs, and had some crafts that they had made for sale.  Only a few of the members of the club spoke English, and it was pretty broken English, but they were so incredibly warm and welcoming.  I have never felt such a warm reception and so welcome somewhere.  Each member of the club was sure to say thank you to us and gave each of us a hug as we were leaving.  That moment will stay with me forever.
After a some flight delays, we were on our way to Nuuk – the Capital of Greenland!  I was in Greenland for a conference, and Nuuk was the destination for that conference.
For me, Greenland was one of those destinations that was truly life changing.  The Greenlandic people are so friendly, warm and welcoming.  I can't wait to go back one day!  I love sharing the stories of this trip with anyone who will listen!