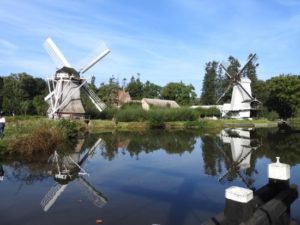 Travel to The Netherlands is always a treat for me, combining the fun of exploring more new places with an opportunity to visit friends in the northeast province of Drenthe.  My recent visit was no exception; this time we spent a day exploring the Open-Air Museum in Arnhem.  World War 2 history buffs will recognize the city's name from a major battle, the largest airborne operation ever.  In September 1944 the Allied Forces failed in an attempt to break through German lines in and around the city.  The battle is chronicled in Cornelius Ryan's A Bridge too Far.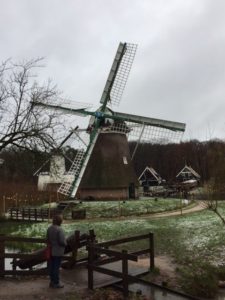 The Open-Air Museum consists of eighty buildings depicting Dutch life in various areas of the country over the last several hundred years.  Along with houses there are windmills, shops, and even a Poffertjes restaurant.   Hosts in period costumes welcome guests and explain interesting facts; and visitors have the opportunity to sample fresh baking, fruit stroop, and beer while learning about the history of these industries.
A vintage tram circles the extensive grounds, offering another opportunity for a small taste of life from a bygone era.  On display are electric trams from Amsterdam, Arnhem, Rotterdam, and The Hague.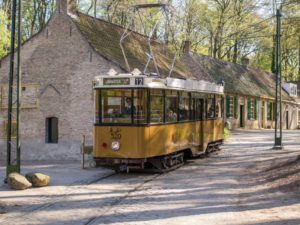 The most interesting part of the visit for me was a small exhibition about how the museum was used to house refugees following the Battle of Arnhem.  Some 600 people crowded into any available space, rightly meant for about one third that number.  People worked together to spread food and resources among all those in need.  The display was a sobering reminder of the horrors of war, and how fortunate I am to have not had that experience.
The next time you're in The Netherlands, consider a visit to Arnhem and the Open-Air Museum.