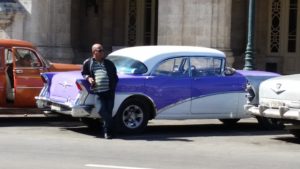 On Thursday of our trip to Cuba, we opted to visit Havana. We didn't want to take a tour with a group, so we spoke to Michel, the concierge at our hotel, and he arranged a taxi for us. We got to ride in one of the old cars from the 1950s.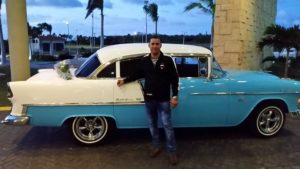 Of all the cars we saw during our week in Cuba, our taxi was definitely the nicest. Our driver Joyisla (yo-ees-la) does all the work himself, and he does a great job. I almost cried when a pedestrian crossing the street scratched Joyisla's car with some of the building materials he was carrying. Up until that point, the taxi was in perfect almost-new condition. It was in much better shape than many nearly-identical models we saw that day. And in spite of the fact that there were no seat belts in our taxi (remember, this car was built in the 1950s before safety belts were obligatory), I had a more more comfortable ride and felt much safer than another day, when we hurtled down the highway in an old Kia Rio.
Our driver Joyisla was fantastic, right from the start. He was very professional yet also friendly and informative, answering our numerous questions about life in Cuba. He also made me like a bit of celebrity by opening the car door for me everywhere we stopped.
About half an hour into our ride from Varadero to Havana, I discovered that I had forgotten my purse at the hotel buffet during breakfast. I rarely do anything that careless, but when I do, I'm  spectacularly stupid. Right away, Joyisla pulled over and called Michel at the hotel. Michel retrieved my purse from the buffet and called Joyisla to let him know it had been located. Joyisla said not to worry, we could pay him for the ride when we returned to the hotel that evening. However, all my money, along with my Visa and debit card, were in my purse. That meant I had no money to spend while in Havana, and no way to withdraw more. I also had both our passports in my purse, so while my boyfriend had some cash, he couldn't go to the bank either. (Passports are required at currency exchanges in Cuba.) I continued to fret, and Joyisla asked if I was still worried about my purse. When I explained that it wasn't the purse itself I was worried about, it was the fact that I had no money to spend in Havana and no way to get more, he immediately lent me some of his own money. What a sweetheart! How many taxi drivers do you know that would do that? After that, I was able to relax and enjoy the rest of the scenic drive to Havana, watching the waves crashing on the shore.
Our first stop along the way was a roadside rest in Bacunyagua, just after crossing the highest bridge in Cuba, at 112 metres. All I can say is that I'm glad we stopped at the lookout AFTER we crossed the bridge, as I probably would not have had the nerve to cross the bridge if I'd seen it first. I'm a bit of a chicken when it comes to heights. The views were great, but what really made the stop worthwhile was the piña colada. I am not a picky eater by any means but I hate anything that is fake coconut-flavoured and can't stomach piña coladas at home. I was pleasantly shocked to find that this piña colada was the real deal. There were genuine coconut pieces in the drink. ¡Delicioso!
I was also very glad that I was not driving in Havana. There seems to be some odd system of one-way streets and no ability to turn in certain directions that I never figured out. Several times we made loops ​that seemed to make no sense–going straight through an intersection and turning left several times, only to end up going the same direction as if we'd turned right in the first place. It was completely confusing to me as a passenger, so I'm positive I would have crashed the car if I'd been driving.
We visited Plaza de la Revolución, Museo de la Revolución, Morro Castle with its great views of the harbour, and El Capitolio in Old Havana. Joyisla knew the best place to buy authentic Cuban cigars at a good price. He also recommended a great restaurant for lunch, Hostal de Cañozado​.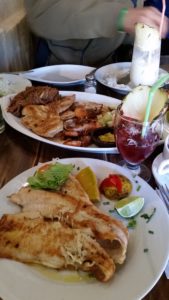 The setting was cozy, with thatched roof and a live band. The portions were huge and the food was excellent, with delicious seafood and meat. The bill for the three of us was $95 Canadian including tax and tip. That may seem a bit pricey for lunch, but I thought it was reasonable considering the quality and the quantity–three huge entrees, unlimited vegetables and rice, plus four alcoholic beverages and a Coke (for Joyisla, who was driving).
Everywhere we went in Havana, the people were friendly, but nobody was more friendly than Alvaro. At a streetlight waiting to cross, he greeted us warmly and asked where we were from. He introduced himself as a professor at the university and a percussionist, and invited us to be his guests at the big show they were having that night to celebrate the 50th anniversary of something. I thought it was the Buena Vista Social Club, but that seems to have opened much earlier than 50 years ago. Alvaro took us to a destroyed building where there is now a flower market. Evidently this is where people from Guantanamo arrived in Havana, and perhaps where the song Guantanamera was written, but I can't find any verification of that anywhere. It was a nice visit anyway, as Alvaro disappeared for a moment. When he returned, he chivalrously presented me with a stalk of gladiolus, although he was outdone my boyfriend who at the same moment was buying me a whole bouquet of roses. Alvaro then took us to the Buena Vista Social Club, where we had the Compay Special, named for the famous musician who used to play there. It was the tastiest drink we had while in Cuba. Our only regret was that we couldn't stay longer to enjoy Alvaro's company and more Compay Specials, as Joyisla was waiting to take us to our lunch reservation.
Joyisla was a great ambassador for his country and certainly made our trip much better. I definitely recommend visiting Havana when you get the chance, and a taxi is the way to go.