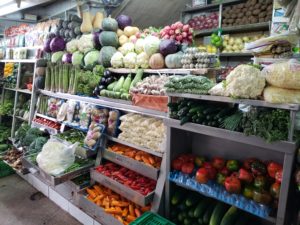 For me, travelling is not just about seeing things. It's about new experiences, trying different food, and interacting with the locals. On my recent trip to Peru with G Adventures, I opted to take Best Bite's culinary tour, which accomplished all three of those things.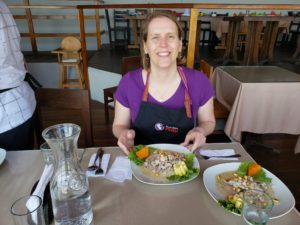 Our guide and teacher, Ricardo, was warm, welcoming, and entertaining. He picked up participants from their hotels and then we all went to a market
to see where the locals shop, and tasted some of the produce. My favourite was the gooseberry, which at home is often sour. Fresh from the market, it was actually quite sweet.
After leaving the market, we proceeded to a charming restaurant on the coast just south of Lima. The first dish we prepared was la causa limeña–layers of soft mashed yellow potato, chicken salad (or tuna), and avocado, garnished with a slice of boiled egg and olive. The roots of this dish go back to the war with Chile, when Lima women wanted to help the soldiers. They invented a new dish to sell; the profits went to support "The cause!" After completing our individual causas, we took a break to eat the tasty results with the ocean as our backdrop.
The second dish we prepared was ceviche. I was a little skeptical when confronted with raw fish and no stove in sight. As promised, the lime juice 'cooked' the fish while we were preparing the remaining ingredients, including peppers, garlic, and cilantro. That ceviche is one of the most delicious meals I have ever eaten. There were so many different flavours in the dish and I could taste each one.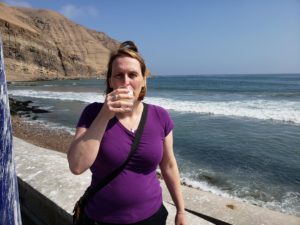 Last but not least, we learned to make the iconic Peruvian drink Pisco sour. Ricardo explained to those of us unfamiliar with Pisco that it is an alcohol made by distilling, rather than fermenting, white grapes. Ricardo led us through all the steps to be sure we made our drinks perfectly. To end our class, we took our drinks outside to the waterfront to enjoy our hard work.
The cooking class was was a lot of fun and the food was delicious. I can't wait to try Ricardo's recipes at home.