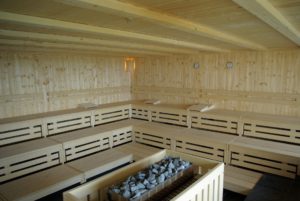 I was told by many people before travelling to Finland – you can't visit Finland and not visit a sauna!  There are approximately 5.6 million people in Finland, and around 3.2 million saunas!  The Finns take this very seriously! Here in North America, saunas are sometimes considered a luxury, but in Finland, they are considered a necessity!
Typically, in a Finnish sauna, it is same gender, and bathing suits are not permitted.  Most hotels in Helsinki and other towns and cities around the country will have a sauna, and there will be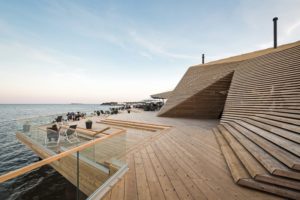 designated times for men and women to sauna separately.
The sauna is a process, one that I thoroughly enjoyed.  We visited Loyly sauna in Helsinki recently.  This sauna is unique as it is designed with tourists in mind, so for that reason, it is mixed gender and bathing suits are mandatory.
When we arrived, were given a key to a locker in the changing/shower room (this is still separated by gender) along with a bath sheet sized towel, and a towel about the size of a facecloth.  The smaller towel is used to sit on while you are in the saunas for hygienic reasons.
Once in the change room, you shower in the open shower room with or without your bathing suits.  Most Finns will go without their swimsuit for this part, I however stayed fully covered.  Once you have showered, you enter the main lounge area, and this is where I met up with my husband.  From here, there were two saunas, a traditional smoke sauna and a wood-burning sauna.  Your admission to the Loyly sauna facility is timed to make sure that the saunas do not become too overwhelming as each one can only hold 20 people.
I thoroughly enjoyed my time in both saunas, and the facility is set up in such a way that after you are finished in one sauna, you can run outside, jump in the Baltic Sea to cool down, and then go back into the next sauna!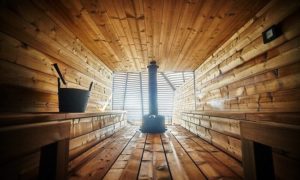 The smoke sauna has a large stove where wood is burned, and smoke fills the rooms, when the sauna is hot enough, the fire dies down and the smoke is vented out.
The wood sauna is most common outside of the built-up areas.  There is a metal stove with stones on top and it is heated with birch wood.
I found this process very relaxing, and while in the sauna was thinking about how I might be able to build one in my home!  I met some great people – a lovely older gentleman from Sweden and a nice couple from Atlanta, and they were also very much enjoying the relaxing atmosphere.
I can understand why the Finns enjoy this process so much, I was thoroughly relaxed, and my skin looked and felt incredible the next day.  I also had one of the best sleeps I had ever had that night.
If you are planning to visit Finland, please make sure that visiting a traditional sauna is high on your list! Contact me and I can help you get the most out of your visit to Finland!