With Covid-19 curtailing our plans, my partner and I have been missing travel. To help with that, one day while Chris was at work, I decided to surprise him by making a dinner with Peruvian and Bolivian foods so we could relive one of our favourite trips.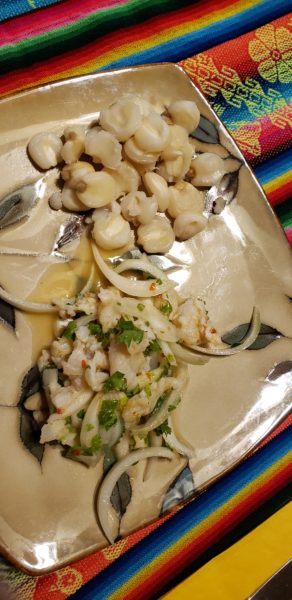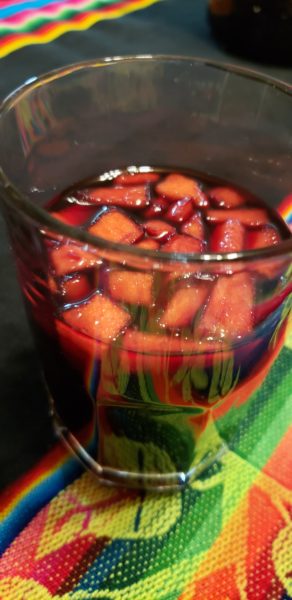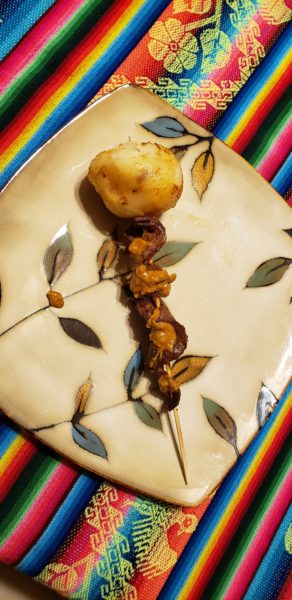 As an appetizer, I made ceviche. It's normally served with sweet potato and lettuce, but I skipped those since a) I didn't have lettuce on hand, and b) it was only an appetizer and I thought the sweet potato would be too much. I did, however, include the customary mote (corn), as I thoroughly enjoy it.
Chris had purple corn in the cupboard so I decided to brew some chicha morada to go along with the ceviche. It took many hours to boil the corn, strain the liquid, add spices and chopped apple, then cool it in the fridge. It wasn't as delicious as the chicha morada I drank in Peru, but it was a reasonable facsimile.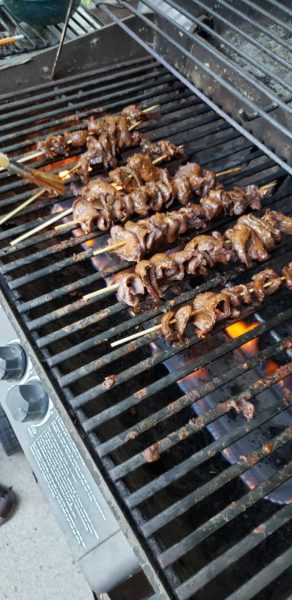 With our main course, we drank pisco sours, which I much preferred over the chicha morada. 😊 This in spite of the fact that they were missing one key ingredient. Even after twice searching the house high and low, I could not find the Angostura bitters, to my great annoyance, as I always know where everything is and never lose anything. Drinking the pisco sours at the kitchen table at home didn't have quite the same feeling as drinking my first Pisco sour on the beach in Chorillos, or toasting with pisco sours on the patio overlooking the ocean at La Rosa Nautica during our first day together in Lima, but the homemade drinks were still tasty and refreshing.
Trying anticuchos was one of the tops things on my to-do list while in Peru or Bolivia, but somehow I never had the opportunity. They are mainly a late-night snack, and we never happened to be anywhere at the right time when they were being served. Since I missed out on them during our trip, I figured I would try my hand at making them at home.
I found a recipe online, and beef heart was surprisingly easy to procure at a local butcher shop. Thankfully, my partner Chris helped make the anticuchos, because they turned out to be lot more difficult to prepare than I had anticipated. Even with his knowledge of Bolivian food and customs and his skill at cooking, they definitely weren't as good as the real deal.
I thought the anticuchos tasted pretty good, but Chris said if the ones in Bolivia were a nine on a scale of ten, ours only ranked a four. If that's the case, I can't wait to go back to Bolivia and try the real thing!