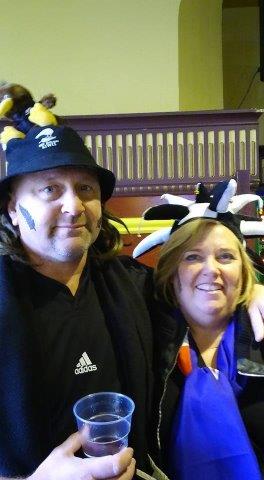 It is my passion to plan holidays, for myself as well as my clientele. In 2006 that started with a plan to visit Europe while attended a FIFA World Cup soccer match in Hamburg. Match tickets were not that easy to get. They were done on a lottery draw basis, so we picked 3 options in Hamburg and proceeded to plan our vacation around those matches "just in case" we were lucky enough to get tickets.
As it turned out we did get tickets but we didn't receive confirmation of the game until well into our vacation, only 24 hours prior to the match. We had just checked into our hotel in Copenhagen when the email came confirming the game for the very next day. This meant we had to cut our time in Copenhagen short, but this was the experience of a lifetime! We were to see Czech Republic vs Italy. Italy would then proceed to win the World Cup that year.  Amazing experience and great start to our dreams of travelling for Rugby, which is really our passion.
These dreams took root quickly as in 2007 the Rugby Union World Cup was to be held in France with some games in the UK. We are staunch All Blacks fans(the national team of New Zealand). Taking a good look at the schedule we saw that in 2007 one of the quarter finals was to take place in Cardiff, Wales. With our calculations, the All Blacks should qualify for that game, so we took our chances and put our names in for that game. As with the FIFA World Cup, tickets did not get confirmed until later, but at least it was earlier than 24 hours prior and we could make our travel plans a little easier.
Game Day came and the city of Cardiff was alive with Rugby Fans. New Zealanders love their rugby, and my husband is one of them. We could not believe the number of "Kiwi's" that had made the journey to Europe to support their team. Over half the stadium's 74500 capacity was full of them. This test was to be against France. Super excited we cheered our beloved All Blacks onto the field albeit wearing grey jersey's (not the usual all black)! This turned out to be a bad omen – with tears in our eye's we watched Les Bleus squeak by and win this quarter final 20-18.
Never fear though, the next World Cup was to be in New Zealand. This time we talked some friends into joining us down under in September/October 2011. We arranged to see 3 preliminary games and we would stay in NZ to watch the final rounds in local Pubs. We knew this could be almost as much fun as attending a game in person.
One of our games was New Zealand vs Canada in Wellington stadium. The 3 of us supported Canada while my Kiwi husband supported the All Blacks of course. New Zealand was the clear favorite, but in the first few minutes Canada would score putting them ahead for a short while. So exciting, eventually though the Canadians were beaten 79-15 by the All Blacks.
Before our departure from Canada my father-in-law asked if we would consider getting married while in New Zealand, which we agreed would be a wonderful idea. So, in between games of course, on a Thursday October 13th, 2011 we became Mr. and Mrs., with all of our Kiwi family present in the beautiful backyard of my father-in-law's  house in Mosgiel, NZ. But, that whole story is to tell another time.
The All Blacks would prove to win the World Cup 2011 in Auckland. We sat and watched in a pub in the Octagon in Dunedin, celebrating with the many nearby fans and the thousands that flooded into the streets after the win.
The 4 of us decided at that point it would be fun to try to attend some future final round games, so the plan for England 2015 was born. Again we would attend a quarterfinal in Cardiff where the All Blacks would again play the French – this time with more success winning 62-13. Cardiff stadium is amazing and the rugby and party atmosphere in the city second to none.
Off to London for the semi-finals and final. We had tickets to the second semi-final Argentina vs Australia at Twickenham Stadium, which holds 82,000. Australia would win this semi and New Zealand the other, so an exciting final was set up for these 2 rugby giants. If New Zealand were to win they would be one of the only teams with back to back World Cup wins.
We did not have tickets for the final, unfortunately, but decided this was a once in a lifetime opportunity. So the next week was spent trying by almost any means to get tickets, while also trying to play the tourist!
We did not have much success trusting people trying to re-sell tickets, but on game day we headed to Twickenham, cash in hand. Wonder of all wonders, a South African couple took pity on me and stopped me in the street. They had a couple of spare tickets and a deal was made! We made them walk through the gate with us to make sure everything was legit. There were a lot of scammer's trying to take advantage of fans in the area.
The All Blacks greatest rival, the Wallabies were defeated in the end and we celebrated the night away!
Since 2015 we have also been attending the Rugby Sevens Tournaments being held in Vancouver, Canada. This is a worldwide tournament that has stopped in Vancouver the last 5 years in the month of March. Because of the Covid-19 pandemic this has been cancelled for 2021, but in 2020 we were there to see the All Black Sevens raise the cup and Canada celebrate a 3rd place win!
In 2019 the World Cup was held in Japan and it was a great success! Unfortunately we were not able to attend, but plans are in the works to once again attend World Cup 2023 in France. The schedule has been released and we hope to see our beloved All Blacks play at least once – perhaps in Toulouse. That is my dream!