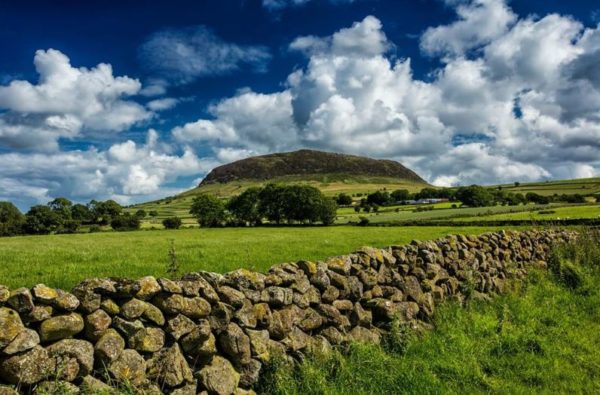 Saint Patrick's Day brings Ireland and all things Irish to a lot of people's minds. And, those of us lucky enough to be Irish or are of Irish descent, particularly so!
My ancestors on both sides of my family emigrated to Canada from Ireland back in the mid to late 1800s. My maternal Grandmother's family home in County Antrim is a special place to me from a genealogical standpoint, nestled as it is at the foot of nearby Mt. Slemish. It's where my Grandma Hannah was born and raised, and is the land she left behind when she left for Canada. But, I discovered, it was also a very significant place for Saint Patrick.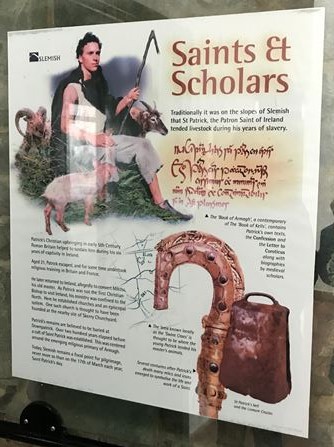 Slemish Mountain, located near Ballymena in County Antrim, is the legendary first known Irish home of St. Patrick. While not of Irish birth, St. Patrick is the patron saint of Ireland and one of the most recognized symbols of the island.  Born in Roman Britain (probably what is now Wales) in the late 4th century, he was kidnapped at the age of 16 and taken to Ireland as a slave. He tended sheep on the slopes of Mt. Slemish for about six years. It is said that it was during this time of isolation and loneliness that he turned to frequent prayer as his only consolation. He had a vision that told him to escape and return home, which he eventually did. But, he returned about 432AD to convert the pagan Irish to Christianity. Legend has it that he drove the snakes out of Ireland and used the shamrock to explain the Trinity.
There are several other places that are synonymous with Saint Patrick throughout the island. Maybe you've visited some of these or can add them on to you next itinerary of Ireland?
Saint Patrick's Cathedral, Armagh City, Co. Armagh – this Church of Ireland Cathedral is said to have been built upon a stone church built by Saint Patrick in 445AD. Saint Patrick apparently tried to convert the Irish Kings who ruled over Ulster and other areas at that time. King Brian Boru, on of the most famous ancient kings, is supposedly buried in the cathedral grounds.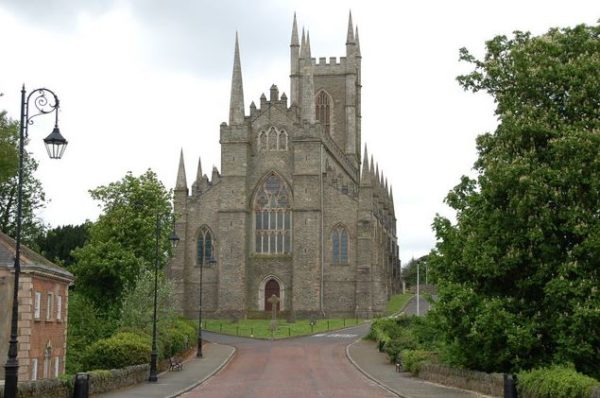 Down Cathedral, Downpatrick, County Down – the cathedral stands on the Hill of Down, the place where St. Patrick was supposedly buried following hs death in 461AD. The 82-mile long walking trail, St. Patrick's Way, begins at Navan Centre in Armagh and winds it's way through the area's history and beautiful landscapes before ending at Down Cathedral.
Rock of Cashel, Cashel, County Tipperary – legends say that this rock came from the nearby mountains when St. Patrick banished Satan from a cave there, resulting in the rocks exploding from the mountain side and landing in Cashel. The mountain is known as the Devil's Bite because of the mythical story. The Rock of Cashel (more formally St. Patrick's Rock) is the former royal seat of the Welsh clan, Eoghanachta that reigned in the 4th Century AD. This is where, legend has it, St. Patrick converted and baptised the chief of the clan, King Aengus, in the 5th Century AD.
Croagh Patrick, Westport, County Mayo – not far outside the town of Westport, Croagh Patrick, "Ireland's Holy Mountain" or "The Reek" is where it's said Saint Patrick fasted for 40 days and 40 nights on the mountain top. Pilgrims have since climbed the mountain to commemorate the saint's fast.
Ireland came to celebrate its patron saint by dedicating March 17th to him by attending religious services and feasts. It was Americans of Irish descent in Boston that started the traditions of making St. Patrick's Day into a day of general partying in celebration of all things Irish; wearing green clothes, drinking green beverages and eating green food (Chicago even turns its river green in honour of the day). Everybody is Irish on St. Patrick's Day! Sláinte!