Disney World truly is the happiest place on Earth!
Their tagline says it's the happiest place on Earth, but you don't really understand what they mean until you visit it for yourself. I'm so in love with Disney World, I wish I could return year after year, as I would never get bored! There is always something new to experience.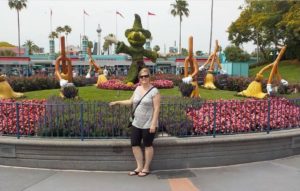 Growing up I was lucky to be able to take a vacation every year, and usually that was Disney.  The first time I visited Disney World I was 7 years old.  From that moment, I knew it was going to be my favorite place to visit. Everyone always says "Disney is just for kids".  Let me tell you…it's for everyone, which is why I chose it as my honeymoon destination!  My husband thought the same thing, it's only for kids, I won't like it etc. Now he also think's that it's truly the happiest place on Earth!
There are so many different things to experience: parades that make their way through the streets, characters waiting to meet & greet you, some of the best fireworks displays you will ever see & much more! Read More >