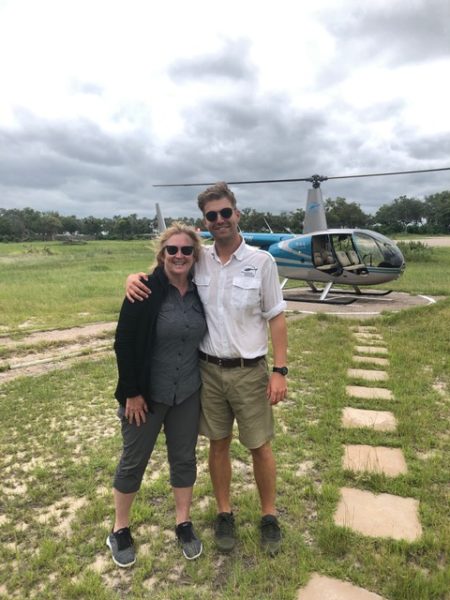 Wop wop wop goes the helicopter blades.  I am sitting next to the pilot in a small 4-seater helicopter ready for take off. Headphones on, buckled in, my heart a pounding!  I calm myself and silently tell myself I can do this!!!!!
Within seconds, and with a couple of jerks, we have lifted off and are flying over the runway, over Belmond Eagle Island Lodge towards The Okavango Delta in Botswana.  For the first few minutes I am breathless from the beauty, the fear I am experiencing and the fact that I have no door beside me and I literally feel like I am going to fall out.
I slowly start letting myself relax and begin to enjoy this most incredible experience I am having. From flying so low I have unbelievable views of the endless Delta. In flood season the Okavango Delta has an area of 15,000 kilometres. The vast number of colourful small islands, river (creek) channels and hippo highways (paths the hippos walk through at night to forage for food) is never ending. It truly was fascinating to see the areas from the air that we normally drive through on Safari.