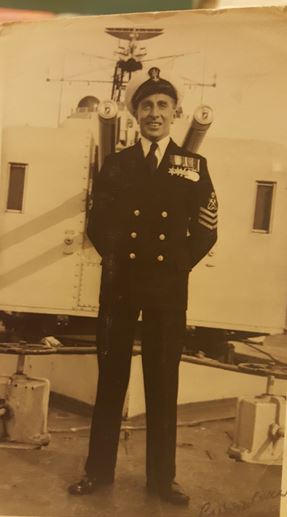 Edward William Cook (my husband Martyn's Great Grandad) – 
Edward William Cook and was born in Dover. Kent, England on the 29/07/1911 and lived in the north of England from his teenage years.  He joined the Royal Navy at Chatham Kent on 14/ 9/1939 as a Sickbay attendant. He wore a peaked cap, black tie, jacket and trousers, not blue square collar and bell bottom trousers.  He spent 1940 & 41 at Newton Abbot Hospital in Devon where they took in lots of injured people from the military in the west of England and the eastern north Atlantic.
His first ship at sea was HMS Quilliam, a destroyer, in Autumn 1942. There were 8 of these "Q" ships built in the north of England and with 3 other Qs they formed a squadron with HMS Quilliam as senior ship.  They left England in November 42 and did not return until the end of 1944. By this time he was a Leading sickbay Attendant as he was on his own looking after the needs of the crew.  That means he wore an Anchor badge on the left arm of his uniform. They travelled as a squadron to the following places and scenes of battles: all around the British Isles; Norway; Iceland; North Atlantic; Gibraltar; north Africa; Malta when the siege was on; Corsica; Sardinia; Italy; Crete; Egypt; Sierra Leone; South Africa; Madagascar; Aden; and Ceylon (Sri Lanka).
When they reached Burma he was transferred to HMS Caradoc, a cruiser, before coming home late 1944 on HMS Renown, a heavy battle cruiser at speed via the Suez Canal and Mediterranean. By this time he was promoted to Petty Officer with 2 crossed anchors on his left arm.