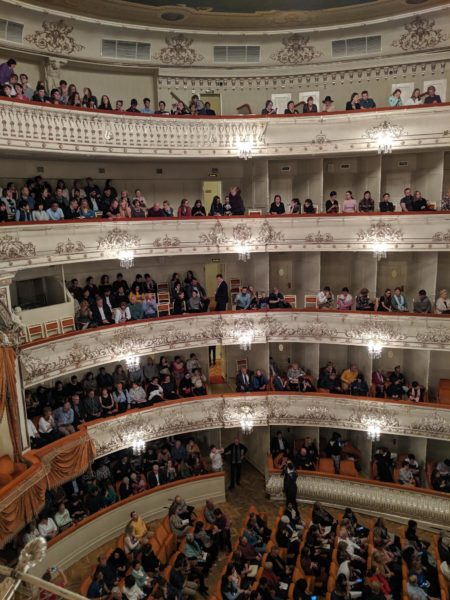 When I found out I was going to Russia, the first thing I thought of – I need to see a ballet!  That is one of the things you always hear about  – the ballet.
The most famous is of course the Bolshoi Ballet in Moscow.  This is almost impossible to get tickets to, especially if you are outside of Europe.  Sure enough, the dates I was in Moscow – completely sold out!
My only other stop in Russia was in St Petersburg.  There are many theatres there that have ballets, but the most famous are the Mariinsky Theatre, Mikhailovsky Theatre and the historical theatre at the Hermitage.
Once I had sorted out that I would need to find SOMETHING in St Petersburg, the next task was to pick a show!  There are the traditional shows such as Romeo and Juliet, Sleeping Beauty and Swan Lake.  I knew I wanted tradition, and I really wanted Swan Lake – a Russian ballet, in a Russian theatre, with Russian dancers – in Russia!
As luck would have it, Swan Lake was showing at the Mikhailovsky Theatre on a date that worked for me.