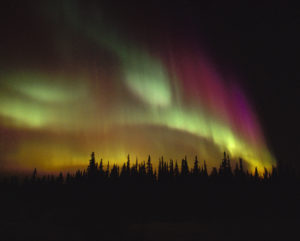 When you think of Northern Lights something mysterious and wondrous comes to mind.
Have you ever wondered how those bright dancing lights are created? They are actually collisions between electrically charged particles from the sun that enter the earth's atmosphere. In the northern hemisphere, they are called Aurora Borealis; in the southern hemisphere, Aurora Australis.
The colours can appear as green or pink, but have also appeared as shades of red, yellow, green, blue and violet. They can look like patches in the sky, scattered clouds, light streamers, arcs and rippling curtains. But, I'm sure we can all agree, no matter what colour they are or what shape they take, they will always be a magical sight!
We feature several Northern Lights tours on our website for you to choose from, or we can customize a tour for you if you don't see one that suits you.