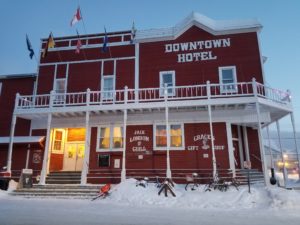 Welcome to Dawson City!  Home to the 'Sourtoe Cocktail!'
Since 1973, the Sourdough Saloon in Dawson City has been accepting members.  All you have to do is visit the Saloon and ask for Captain River Rat.
Purchase a shot (I chose Yukon Jack), and pledge the oath;  'You can drink it fast, you can drink it slow, but your lips have gotta touch the toe'
Watch as the (genuine) dehydrated toe is dropped in your drink, and enjoy your shot.