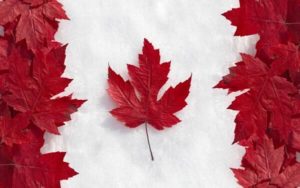 It's not everyday a lady celebrates her Sesquicentennial.  And it's not everyday you can find someone who actually a) knows what that means and b) can say it properly!
OK, so what it means is "the 150th anniversary of" and is pronounced "ses kwi sen tenial".  It comes from "sesqui", meaning one and a half and "centennial" meaning a hundred.
On July 1st, 2017 Canada celebrates her sesquicentennial and Canadians will celebrate their 150th Canada Day!
If you're Canadian, pull out your flag and all your red, white and maple leaf clothes and gear; put on your party shoes and get out there and celebrate!  We live in an amazing country, one worth celebrating every day, but especially on her 150th birthday!  It's not every year a lady hits 150 (and doesn't look a day over 129)!
If you're not Canadian, we're sorry.  But, please, come and visit us!  We're big and beautiful and an amazing country to spend some time in, with loads of interesting, cool things to see and do; lots of festivals, concerts and celebrations; great food and drink options and friendly folk to help you find your way around our immenseness.
Here are a bunch of Interesting Facts about Canada in honour of her special July 1st, 2017 birthday:
"Canada" comes from the Iroquoian word of "Kanata", meaning "village". The village has gotten a bit bigger over the years.
Canada is the world's 2nd largest land mass at 9.985 million sq. km. With a population of 35.85 million, that gives us a density of under 3 people per sq. km. That leaves us with lots of wide open spaces and room to breathe.  The whole country of Canada has fewer people than Tokyo's metropolitan area (37.8 million) or the state of California (39.14 million)!
Canada's official phone number is 1-800-0-CANADA (not 1-800-SORRY-EH, as most people might think!)
Ottawa, Ontario is our nation's capital. Canada consists of ten provinces and three territories.
The instantly recognizable Maple Leaf flag became Canada's official flag on February 15, 1965, almost 100 years after Canada became a country in 1867. Approximately 13 different flag designs have been used since 1497 until 1965.
The North American beaver is the national animal of Canada, and we eat beaver tails. No, not real beaver tails, but the delicious, deep-fried doughy-delicious kind!
"Eh" cannot just be used anywhere in a sentence. It's only used at the end as a confirmation, sign of agreement or a question.  So, if you're going to use "eh", use it right, eh?!
Canada is amongst the world's most educated country, with a 99% + literacy rate and over half of its residents having at least a college degree or higher. We're not bragging or anything, but we're pretty smart!
Canada holds two Olympic records: most gold medals won by a country in a winter Olympics and most gold medals won by a host country in a winter Olympics, both accomplished in Vancouver 2010.
Canada's lowest recorded temperature was -63C (-81.4F) in 1947, recorded in the Yukon. The thermometers are nearly almost all thawed out.
Canada has more lakes than the rest of the world's lakes combined. That's a lot of water to gaze at, swim in, fish in, boat and water ski on, walk and camp beside and just contemplate in peaceful silence.  Also, about 30% of our land mass is covered by forest.  No wonder we're a bunch of tree huggers!
Canada consumes more macaroni and cheese than any other nation in the world. In the words of one of our very own, favourite Canadian bands, The Barenaked Ladies, "If I had a million dollars, we wouldn't have to eat Kraft Dinner. But we would still eat Kraft Dinner. Of course we would, we'd just eat more. And buy really expensive ketchups with it. That's right, all the fanciest Dijon ketchups."
Churchill, Manitoba residents leave their vehicles unlocked to offer an escape for pedestrians who might encounter polar bears. Yep, there's a reason it's known as the Polar Bear Capital!  And the Northwest Territories even have license plates shaped like a polar bear in honour of these magnificent arctic creatures.
Every Christmas at least 1 million letters are addressed to Santa Claus at the North Pole, Canada H0H 0H0. And every one of them gets a letter back, as long as the sender has remembered to include their return address.
The border between Canada and the US is the longest international border in the world and lacks any military defence (unless President Trump decides otherwise). Canada also has the world's longest coastline at 243,977 km (151,600 miles); longest highway, the Trans-Canada Hwy 1 at over 7,604 km (4,725 miles) and the world's longest street, Yonge Street in Toronto which measures in at 1,896km (1,178 miles).
Large parts of Canada have less gravity than the rest of the Earth, a phenomenon discovered in the 1960's. So, if you want to lose some weight….
Americans have invaded Canada twice, in 1775 and 1812. They lost both times.  And, sorry, but this time we're not sorry!
Canada has the 3rd largest oil reserves of any country in the world after Saudi Arabia and Venezuela.
Canada's bank notes have Braille markings on them, making handling money easier for the blind. Our coins are different sizes and shapes, with patterned edges, to make them recognizable to those visually impaired.  Our 1-dollar coin, with a picture of a loon on it, is known as a loonie. Our 2-dollar coin features polar bears, and is called a toonie (two loonies).
Canada and Denmark have been fighting over an uninhabited island in the Arctic since the 1930's. How are they fighting?  They come and change the flag and leave each other bottles of alcohol.
When flights were grounded during 9/11, Canada housed, fed and sheltered over 33,000 passengers from countries around the world. The small community of Gander, NL (pop. of about 10,000 with 550 hotel rooms) played host to 39 airliners, 6,579 passengers and crew.  The current Broadway hit musical "Come From Away" celebrates the amazing hospitality and kindness of this small, Canadian community.
Canadians can order a portrait of Queen Elizabeth II and have it shipped to them for free. Hhhmmm, need a picture for over your fireplace or couch?
The Hawaiian pizza was invented in Canada and is not the most popular pizza in Hawaii, but it is in Australia! Other Canadian food favourites – poutine, back bacon and maple syrup.  Well, and beer.  It's kind of its own food group.
The grouchy yet loveable comic book icon, Wolverine, originated in Canada, as did Superman, the man of steel.  And the loveable Winnie the Pooh got his moniker from a real, black bear cub named Winnipeg.
Montreal, Quebec is the largest French speaking city in the world after Paris, France; French is spoken in many of our provinces. And "Canadian English" is mostly British English so we use "u" in words like colour and neighbour and spell center as centre. But, it's a hybrid and we do use some American spelling, like using a "z" in words like cozy and customized.  But, the letter is pronounced "zed" not "zee".
Hockey is Canada's national winter sport, although for most Canadians it's more a way of life than a sport. Take any calm, polite Canadian and turn them into a raving fanatic by simply criticizing their favourite team.  Fair warning!  Lacrosse is our national summer sport (really? ya', really!).  Basketball was invented by Canadian James Naismith in 1891 and the baseball glove was invented in Canada in 1883.  Guess we're pretty sporty!
Canada produces wine in British Columbia, Ontario, Quebec and Nova Scotia, and is famous for its ice wine, made from pressed, frozen grapes.
Canadians must be sweet! There are more doughnut shops in Canada per capita than in any other country, we love our maple syrup and fruit juice made from home-grown produce.
To balance out our sweetness we also seem to love cheese – on average Canadians consume 23.4 pounds per person annually, mostly cheddar. And we eat an average of 190 eggs per year.  Can you say quiche?
Canada is home to 15 UNESCO World Heritage Sites, like the Rideau Canal in Ottawa, the walled Quebec City and the winner of the most interesting name, Head Smashed in-Buffalo-Jump park. The country is also home to 42 National Parks, all of which offer free day-admissions all of 2017 in honour of the 150th.  So, come on and join us in the "Great White North".  You'll be glad you did!