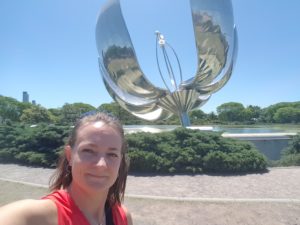 En route to Ushuaia and Antarctica, I was lucky enough to spend a full day in Buenos Aires taking in as many sites as possible in 24 hours. Which was definitely, not long enough!
The capital, and most populous city of Argentina, with a population of about 2,891,000 in 2016, was bigger than I thought.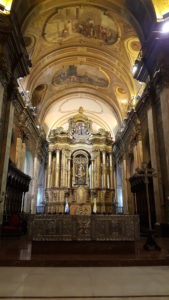 We started our morning with a visit to Plaza de Mayo, or the city square and main foundation of Buenos Aires.  We toured the Buenos Aires Metropolitan Cathedral.
The interior of the chapel includes floors covered with Venetian-style mosaics, which were repaired between 2004 and 2010.  It also houses the remains of General Jose de San Martin, which were placed in a mausoleum, reachable from the right aisle of the church.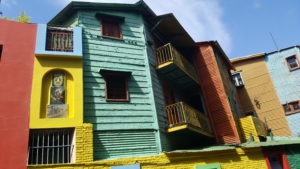 Next we headed past the La Casa Rosada, or the Pink House which is the executive mansion and office of the President of Argentina.  As the first legend states, the Casa Rosada's pink is the result of mixing cow's blood into white paint, which was meant to protect the building from the ravages of Buenos Aires's humid climate.
I was excited to spend some time wandering around one of the many districts in Buenos Aires.  La Boca, which houses 'El Caminioto,' meaning little walkway along with the La Bombonera Stadium. It is one of the oldest parts of the city, where most of the European immigrants started off in Argentina.  During the day, the vibrant colors, Tango dancers and restaurants give it a nice feeling.  However, the atmosphere does change at night, as it's still one of the poorest neighbourhoods in the city.
And, finally a drive down 9 de Julio Avenue, the widest street in the world.  The street received its name in honor of the Independence Day of Argentina, July 9, 1816.  The avenue has up to seven lanes in each direction and covers an entire city block.  Our morning City Tour ended at Recoleta Cemetery, one of the world's most extraordinary graveyards.  The cemetery also holds the remains of the actress, turned First Lady Eva Perón (also known as Evita).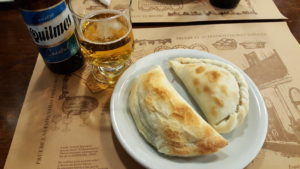 Empanadas and a cold Quilmes Beer for lunch, at the famous El Sanjuanino Restaurant, located in Recoleta.  In the afternoon, we enjoyed a visit to the Museo Nacional de Bellas Artes.  This is an amazing art museum, open daily except Mondays, with free admission.  If time permits, I recommend a visit, possibly during the week if you wan to enjoy all of the local school groups visiting.
Next time In Buenos Aires, Polo & Tango Lessons!