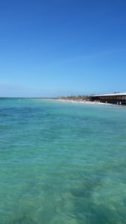 On my recent trip to Varadero I stayed at Meliá Marina Varadero. I really liked this resort. The nightly entertainment was professional quality, with a variety of styles of entertainment. There was live music in the lobby every evening, including high-quality opera singers one evening. There was often a preview of the nightly show in the lobby as well. The shows were either music and dancing or acrobatic-type shows and were all well done. And of course there was lots of Cuban music throughout the week.
The food was good although mostly the same every day at the buffet. The fresh pasta, meat, and omelet stations were all good. The croissants were surprisingly great–crispy on the outside and soft on the inside, better than some I've had in Canada. The a la carte restaurants were better than buffet. Visits were limited to three per week, although there are only four a la carte restaurants in the resort so you only miss one. There were a few minor things at Bana (the Asian restaurant) that could have been improved, but otherwise all three restaurants were good, the Latin restaurant being our favourite. Being Cuba, there were a few times they didn't have supplies. We were unable to order one item off the menu at the French restaurant, and a few times we couldn't order mojitos because they ran out of fresh mint. Other than that, we had no complaints about the food, bar, or service.
The rooms were comfortable and the maid cleaned well and replenished towels and toilet paper daily. The maid formed towel animals on the bed and left notes for us, which I thought was a nice touch. The staff were mostly friendly and helpful. Michel especially was wonderful.
The beach is across a bridge over the street, but I didn't find that to be a negative. It's about a 3-minute walk from the pool to the beach, no worse than some huge mega-resorts that are technically beachfront, and there is a golf-cart shuttle if you don't want to walk. When the weather is a good, the beach bar is open and there is a grill serving barbecue for lunch. We didn't have an opportunity to sit on the beach because the weather was quite poor when we were there, but we did walk the beach for a long distance on two separate days, dodging hundreds of jellyfish that had washed up on the beach. When the weather was good, the beach was beautiful, with not a single jellyfish to be seen.
The hotel is located at the end of the peninsula, so this wouldn't be the most convenient hotel for people who want to be in the heart of the action in Varadero or within walking distance. However, there is quite a bit to do at the marina, including shops, restaurants, entertainment. There is a club nearby that was hopping on Friday night. It was especially convenient to be near the marina when we needed to use the currency exchange when our hotel's cashier was closed.
I wouldn't hesitate to recommend this hotel.
On Saturday, we took a day tour to the town of Matanzas. Roly, our taxi driver was very good. We paid $80CUC for approximately 8 hours. Before we went to Cuba, I had never heard of Matanzas, but it was well worth the visit. Museo Farmaceutico is a former holistic pharmacy that operated from 1882-1964, when it was turned into a museum. All of the original porcelain containers and glass vials are still here, along with the recipe books and prescriptions written by Dr. Triolet Lelievre. The knowledgeable lady who guided us through the museum gave us many interesting facts. Admission to this well-preserved pharmacy is $3CUC. There are plans to restore the living quarters upstairs.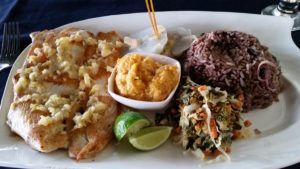 For lunch, we went to Bukan Restaurant. This was another good restaurant, and the service was impeccable. It was even more inexpensive than Varadero–two appetizers, two entrées that were so  huge we couldn't finish, a beer, a lemonade, and a bottle of water came to a grand total of $18.80CUC. The soup was very tasty, and the garlic fish was good, although it was a little too well-done for my liking. The fish we had in Havana was much more tender.
After lunch, Roly took us to Las Cuevas (caves) Bellamar. Admission is inexpensive, $5CUC per person, plus another $5CUC if you wish to take photos. The stalagmites and stalactites in the cave are quite spectacular, rivaling some I saw in Australia years ago. The guide is quite entertaining, although I suspect the tour is more informative if you go solely with an English-speaking group, as everything our guide told our group was repeated in several languages.
On our way back to our hotel, we stopped at Las Cuevas Saturno. Again, admission was inexpensive, $5CUC per person. There is a pool for swimming, and we braved the cold water to take a dip-the first time we'd even put on our bathing suits that trip. Fortunately, the air temperature was fairly warm that day, so we didn't freeze when we got out. We also visited the caves at a good time near the end of the day, and we had the cave to ourselves. When we arrived, there were quite a few people around, and I suspect the experience would be less enjoyable when it's crowded.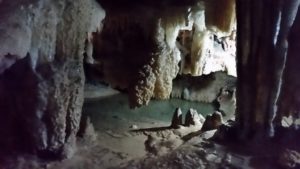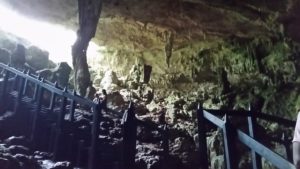 On Sunday, we went into Varadero for the day. After spending many hours walking the beach and the shopping for souvenirs in the numerous markets, we opted to stop at La Vicaria Restaurant for lunch. The garlic shrimp were excellent and the Moros y Cristianos (Moors & Christians – brown beans & white rice) was tasty. Like most restaurants we visited in Cuba, we found it quite inexpensive. We paid a total $19.35CUC for two entrées, one soup, a beer, a soda and a coffee. We decided to stop at La Casa del Chocolate to end our day in Varadero. They have very good hand-made chocolate and not very expensive ($1 for 2 pieces). The Daiquiri was very good, and so was the hot chocolate. We took a long walk on the beach, which looked nice but had were many more jellyfish than at our resort. The Coco Taxis were cute—next time I will be sure to take a ride in one instead of walking the entire strip. The double-decker bus runs from the marina to Varadero and back, and an all-day ticket is only $5CUC per person. This is a good value, as a taxi from the marina to Varadero is on average $15CUC one-way. When it was time to return to the hotel, the bus was crowded with many people standing. We were very tired after walking all day, so we decided to splurge on a taxi.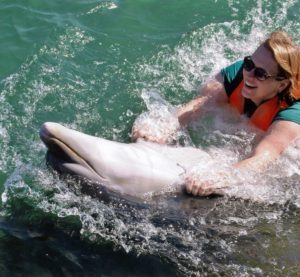 On Monday, the only day with really good weather, we took a catamaran excursion booked through Sunwing. It's available with or without the dolphin experience, although in my opinion, it would be a waste of money without the dolphin experience. The snorkeling was definitely underwhelming. We didn't see much, as it was really too wavy to snorkel and it was only a 15-minute stop. The lunch at Cayo Blanco was good, with fresh lobster and seafood as well as chicken, and the beach is gorgeous, but you could stay at the hotel and experience nearly the same thing. The dolphin experience was the highlight of my trip. It's a great value compared to other destinations, and we all got a turn to touch the dolphins Pancho and Nina several times and see all their tricks. We even got a kiss from the dolphins, and afterwards, those that wanted were able to swim with dolphins for only the cost of a tip to the trainer. Flying through the water while hanging on to Nina's fins was so much fun.
Overall, I was more impressed with Cuba than I thought I would be, based on everything I've heard over the years. I would definitely go back again.