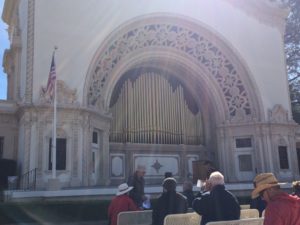 Imagine yourself sitting amongst strangers on metal benches, that were surprisingly comfortable, waiting in anticipation for someone to come to the stage that is laid out before you in an open-air pavilion. The architecture that surrounds you is pristine, built in 1914, and looks like someone has taken great care in preserving the history of this beautiful venue. That's because they have.
The first of its kind, and the world's largest outdoor pipe organ, this amazing piece of history continues to serenade visitors, for free, every Sunday afternoon. This was the wishes of John D. Spreckels, son of sugar magnate Claus Spreckels, who was one of the wealthiest residents in San Diego County at that time. December 31, 1914, he and his older brother, Adolph B. Spreckels, gave the organ pavilion as a gift to the people of San Diego and the people of all the world.
Throughout the years between 1914 – 1942, the pavilion was used every week, including for Spreckels' memorial service in 1926. However, during World War II, the US Navy borrowed Balboa Park and as such, no organ concerts were played during the years of 1942 – 1948. During the 70s and 80s, the pavilion risked being demolished, but the city and a local non-profit raised around
$1.1 million for repairs in the early 1980s and the organ and pavilion were made beautiful once again.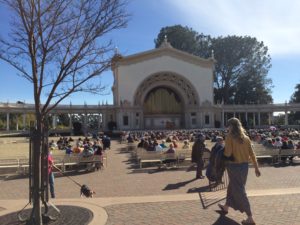 In 2002, the organ was expanded from 3,400 pipes to 4,518 pipes. It was expanded again in 2015 to 80 ranks (what sets of pipes are called that have common sound and volume) and 5, 017 pipes. With that expansion, San Diego's Spreckels Organ is now the world's largest pipe organ in a fully outdoor venue (western New York's Massey Memorial Organ is larger, but there's a roof over the open-air auditorium).
From downtown, the Old Town Trolley takes you on a two hour, hop on hop off, narrated tour, one of the stops being Balboa Park, which I suggest taking anyway because it's an amazing tour and will get you around the sites of San Diego and Coronado Island for less money than it would be for an Über to take you to all those places. If you're feeling adventurous, the number 7 or 215 bus stops right outside the park.
If you find yourself in San Diego, wandering around wondering what to do on a Sunday afternoon, I suggest you check out Balboa Park. Not only for its beautiful landscape, the zoo, Safari Park and Spanish Market, but also for this amazing piece of history that will brighten your day and calm your soul.