"Welcome welcome, welcome welcome,welcome welcome we are all greeting you……."
Wow, what a wonderful way to be greeted. Twenty five healthy, happy, talented and beautifully uniformed grade 6 students gave me a musical welcome like I have never had before. I was in the small village of Ngamo Zimbabwe, on the border of Hwange National Park.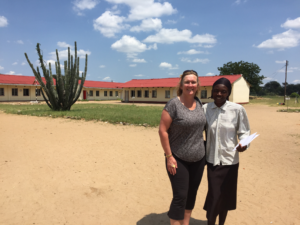 The feeling was exhilarating and humbling and gave me chills down my spine. With great pride, the headmistress toured me around the school where 321 students from nursery to grade 6 regularly attended. I was so pleased to see a wonderfully stocked library; nicely decorated classrooms, complete with comfortable furnishings; chalk boards; and supplies. As well as solar powered washrooms and running water to the sinks. A solid fence is built all around the school property, which is extremely important because roaming animals, such as elephants and lions, are common.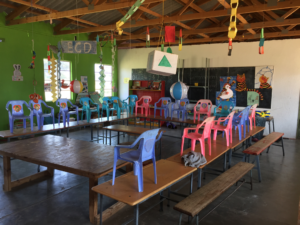 Every morning the students gather in front of the school to a welcome assembly full of song, stories and lessons. Music and song is a big part of the school environment and culture. I was lucky enough to be entertained by numerous song and dance performances by the students. I was particularly interested that a group of women were busy preparing a hot lunch for the students so that the students would have a hot meal for the day. As we all know everyone is happier and works harder on a full stomach.
I had brought school supplies and soccer balls from home to give to the students. As well, to add to the village economy, I went to the local store and bought notebooks, pens, stationary and some food supplies.
As a retired teacher, seeing such healthy, happy and confident students certainly gave me hope and was the highlight of my day in Ngamo.