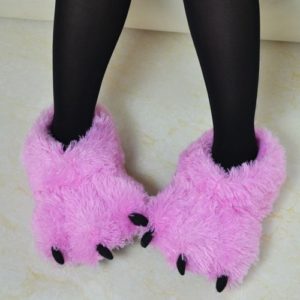 I woke up at 6:09 according my phone clock. I pack up what belongings I have taken out and head off to the shower. A push of the button gives you 2 minutes of hot water. It's their way of conserving the water that needs to be brought in (and out) from town.
I got dressed and put on my fuzzy slippers and make my way to the lounge car. Not many people are awake yet, so I find myself a table and a cup of coffee and enjoy the views outside the window. As people trickle in, the volume gets louder and the space becomes full of people. Breakfast of french toast and bacon is served. And coffee. There is always coffee.
We are instructed to strip our beds and make sure we have all our belongings; the checked luggage has new tags and is kept at the foot of the bed for transfer later. As was before, we will not see that luggage again until we land in Winnipeg. We take our carry on luggage onto the Buggy and wait for Kevin, and then we're off.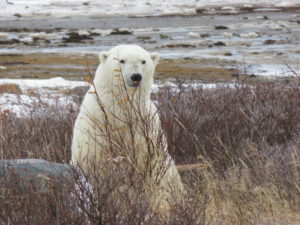 Again, we didn't have to go very far… we saw a bear hunkered down in the willows within the first 20 minutes. And then spend the next two hours watching the bear eat grass and kelp and roll around in the snow. He gave us quite a show. We moved because he moved. And he continued to give us a show, not knowing that he was being watched. Maybe he did and just didn't care.
Eventually we decided to move on, give another group of visitors a chance to see what we were seeing, so we moved south, down the coast to see what else we could see. A red fox and an arctic fox later, it was time for lunch. Beet borscht and sandwiches were on the menu. Delicious.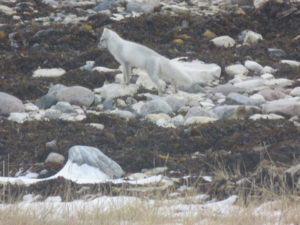 Dredging through the just frozen water, our Tundra Buggy followed the already deep tracks down the trail. The vehicle heaves left and then right, creaking as it slowly bounces over the glacial erratics. With the windows open, you can smell the diesel engine working hard to continue on this path, not shifting gears until the driver decides to push harder on the gas pedal. Eagle-Eye Margot spots a silver fox. The Buggy stops and all you hear are the rapid shutter clicks of a dozen cameras and the shuffling of feet as people get into the best position to capture this creature on film.
Two more arctic foxes and three more arctic hares later and we were on our way back to the parking lot. Slowly. The road is horrible; water filled ruts and unearthed giant boulders make our trek challenging. Tundra Buggy 12 and Kevin take us over this bumpy terrain with ease. The old military base towers now just a pile of weathered wood and cable.
After three days of not touching solid ground, Kevin backed Tundra Buggy #12 into its parking spot and we all filed off, walked along a platform and down the stairs. It's a surreal feeling, to know you haven't touched solid ground in three days. However, that feeling was short lived because we took two steps on the ground and then up the bus stairs on our way back to the airport. A hop, skip and a jump later, we were waiting for our plane to take off.
So long Churchill, and thanks for all the bears.