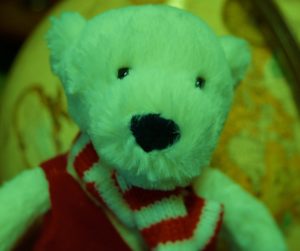 Hi there! Great Canadian Travel Bear here.
I still don't have a name, but for now, since it's almost St. Patrick's Day, I am taking on the name Patty O'Lantern. I think that it's pretty fitting. As you can see, I'm green with envy because of all the Irish people and people of Irish descent who get to celebrate on that special day. That got me to thinking about my own ancestry, so I decided to take one of those DNA tests to find out who I really am. And, guess what? I discovered that I can trace my family tree back to Ireland! Apparently genetic evidence shows that I am a descendent from the Irish Brown Bear that lived during the last ice age. I think it's kind of crazy to know that my great-great-great-great-great-great… you get the point… grandmother bear was hanging out in a country across the ocean thousands of years ago! Now, that's cool!
I guess she wasn't around anymore to see Saint Patrick in Ireland, but I'm sure that Slemish Mountain was there. It was probably a volcano at that time, not the plug of an extinct volcano like it is now. Did you know that Saint Patrick was brought to the area that Slemish Mountain is in? He tended sheep herds on the mountain. Sheep are no polar bears, but they are still be-ewe-tiful in their own way.
Great Canadian Travel has some new tours that can take you to Slemish Mountain. You can take a look at them if you're interested.  There's Northern Ireland, Up Close and Personal, Northern Ireland, Cosy Country Living and a day tour from Belfast Hidden Gems of Antrim. We like to show you all the beautiful places in the world, even some that aren't very well-known.
I haven't been to Ireland yet, but I hear that it's an amazing place to go. One of my colleagues, Lois (who also has Irish heritage), is going to take me there in April, so stay tuned to this space! I'm sure I'll have many more journeys to share with you.