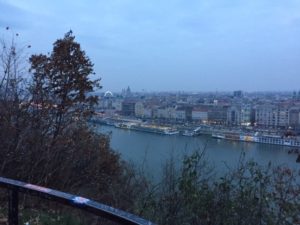 Welcome aboard. 
Hearing that every time I walked down the gang plank onto the ship made me feel so at home. It was even a warmer welcome when I was offered a hot towel and a glass of hot Gluwein (mulled wine) to refresh myself. I was on an Ama Waterways 7-day Christmas Market Cruise down the Danube River. Wow did I have some fun! 
I embarked in Prague and disembarked in Budapest. Each day, I sailed through spectacular scenery and moored in stunningly beautiful port cities or towns. Cruising through Germany, Czech Republic, Hungary, Slovakia and Austria along the way was magical.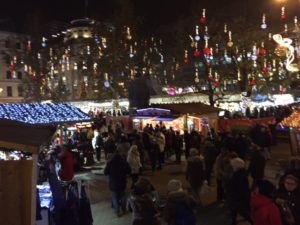 Along the way I visited 8 different Christmas markets. Each one being so totally different. Did you know that "snow globes" were first made in Vienna? As a result, thousands of beautiful snow globes are available in the market in Vienna. In Linz, the markets where selling an abundance of beautiful hand carved wooden ornaments and wooden Nativity figurines. In Budapest the market sold lovely hand made pottery, fur hats, mitts and clothing.   
Not only did each market sell different wares but unique speciality foods were available at each market.  In Budapest chimney cakes were the "hot item". This is a piece of dough that is spiralled over a metal cylinder and then baked over hot open coals. When baked the spring shaped treat is rolled in either cinnamon sugar, icing sugar or cheese. In Vienna the foot-long Bavarian sausages in a baguette or the foot-wide pretzels topped with cheese were extremely popular. 
At every market, delicious warm hot chocolate sometimes with Baileys, Amaretto or berries, and the flavoured Gluwein with rum, schnapps or palenka warmed me all the way through to my toes.  
I think the most impressive thing of the whole trip was the lights and sounds each market displayed. I must have seen at least a million Christmas lights this week. All colours, all sizes, in different shapes but most importantly, all twinkling.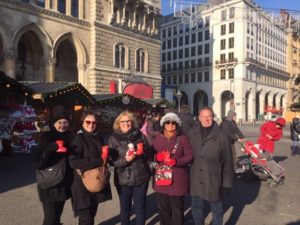 I look forward to heading home to my chilly city of Winnipeg and spend Christmas in the snow. I always love how Christmas lights always shimmer and glisten against the snow. It will be especially fun sharing with my friends and family the Christmas market knick-knacks I bought in Europe.