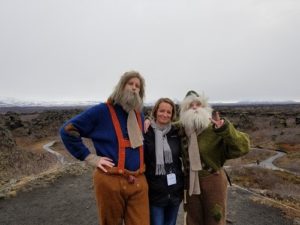 Iceland has a fantastic tradition of the 13 Yule Lads which lead up to Christmas Day.  The Yule Lad will come down from the mountains to bring children gifts and candy, and sometimes play pranks.  Take the quiz on the below link to find out which Yule Lad you are?
https://www.icelandnaturally.com/
December 12 – Sheep-Cote Clod
December 13 – Gully Gawk
December 14 – Stubby
December 15 – Spoon-Licker
December 16 – Pot-Scraper
December 17 – Bowl-Licker
December 18 – Door-Slammer
December 19 – Skyr-Gobbler​
December 20 – Sausage-Swiper​
December 21 – Window-Peeper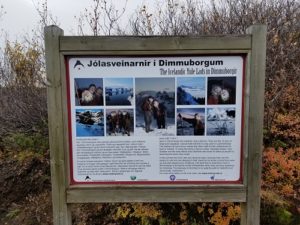 December 22 – Doorway-Sniffer
December 23 – Meat-Hook
December 24 – Candle-Stealer
I was lucky enough to visit the area of Dimmuborgir and meet 2 of the Icelandic Yule Lads.  Dimmuborgir was formed in an eruption that occurred in the area 2.300 years ago.
The area is composed of various volcanic caves and rock formations and located just east of Akureyri, close to Myvatn.  A very cool place to take a walk and explore! Contact us when you'd like to go explore these amazing formations in Iceland.