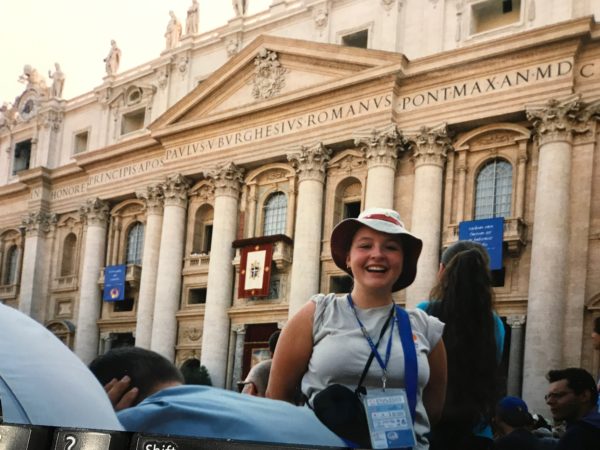 My "Best days ever" started was when I was 18. It was the year 2000. I was fresh out of high school and ready to conquer adult life, move out of province and go to law school.  My Church had opened registrations to join the St-Boniface Diocese to send 75 youth to Italy for the World Youth Days and lucky me, I was chosen from my community.
Close your eyes and picture yourselves among a few million people in St. Peter's Square.  You're squished, you're holding your travel partner's hand and back pack very tightly so as not to get separated and your eyes are locked on the flag overhead held by your flag bearer, a.k.a "group master".  Do this successfully and you won't get lost.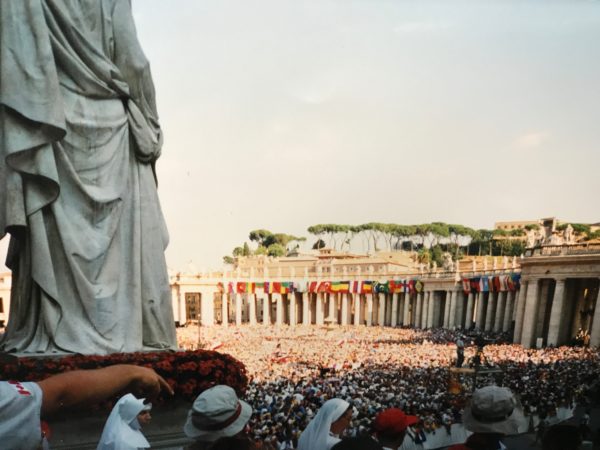 So, there we all are, in the middle of chaos and Pope John Paul II is miles away, like a little dot you can kind of see, waaayyy over there.  Suddenly, the crowd parts just like Moses parting The Red Sea and our group is standing there in the middle, on the cobblestone pathways to the Vatican. The guards are yelling at us and they take our group master's flag pole away!  OMG, what is happening?  The guards start to move us and, just like that, we are ushered on stage to sit with Pope John Paul II. Thus was the start of the World Youth Days opening ceremonies and my travel career!
I never went to law school…I became a travel agent!
By the way – the flag pole that was stolen from us, well Sister Norma dared me to jump the iron gate to retrieve it, which I did. I saved the day, something I always seem to end up doing when I travel (see other blogs).
We were four sharing that tiny room together in Rome: Sister Norma, Monique, Mariève and I.  For the past 19 years we've been getting together every few months for lunch.  We lost Monique a few years ago to a long battle with MS and other health issues, but when I close my eyes, I see the four of us right there in the middle of all the chaos, and I am filled with so much peace, love, and desire for my next adventure!