Vancouver Island – a west coast beauty thriving abundantly with lush greenery and flowers blooming effortlessly. An oceanic coastal scene mingled beautifully with deep forests and soaring mountains. I visited for my first time last year for my best friend Amelia's wedding. I didn't know what I was expecting when I landed in Nanaimo, but I did not expect to be as overwhelmed and taken aback by its tucked away charm as I was. Growing up on the Manitoba prairies and never really travelling to any of my neighbouring provinces did leave me wondering. and unaware, of the vast diversity of our country from one province to the next.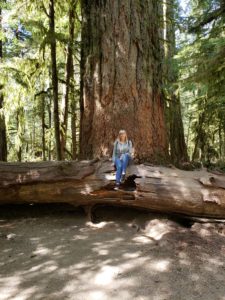 I returned to Nanaimo again this May for another visit. I am going to highlight just one day I spent on the island. We started off by picking up a coffee in Nanaimo and sitting by Departure Bay, where we watched the ferries coming and going from the port. Once we were caffeine infused we headed out on the road, passing by town after town down the coastal highway. I remember staring out the window as we drove down the winding highway, passing towering trees that went on for miles and, when there was a break in the trees, ocean and mountains. It was completely serene and peaceful.
One of the moments that stood out the most was visiting Cathedral Grove, an old forest in MacMillan Provincial Park with towering ancient Douglas fir trees. Some of the trees are over 800 years old – their trunks are broad and thick, they almost looked wise with their weathered and strong bodies upholding for so many years. It was one of those rare moments where I felt truly small, surrounded by these giant trees that towered overhead, with their branches creating a blanket of leaves high above.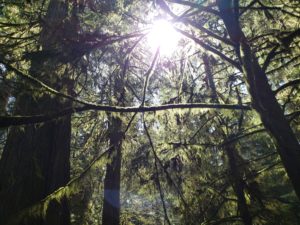 There was bright green moss that grew freely over branches and broken down logs, the sun light filtered through the leaves and the spaces between the trees, washing over every surface. The forest had a very mysterious and whimsical feel, you cold easily get lost in your thoughts wandering and admiring its magnificence and raw beauty.
After, we stopped at a farmer's market where we bought fresh produce and sipped on iced coffee from a hole in the wall coffee shop by the side of the road. We hit two different beaches and ending up in several towns. We took time to explore and embrace the fresh air by the water and watch the mountains in the distance. We wearily made the drive back to Nanaimo and ended the day with a glass of wine.
My experience of Vancouver Island was one of wonder, fascination, and happiness. I am always looking for an adventure and a new place to discover. The island gave me all of this and more which is why I can say this was one of my best days ever.