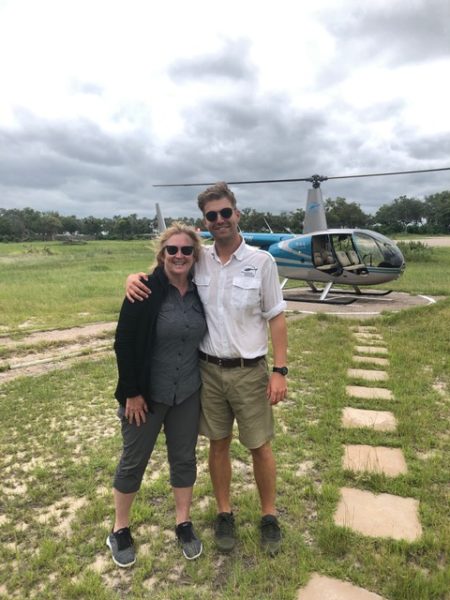 Wop wop wop goes the helicopter blades.  I am sitting next to the pilot in a small 4-seater helicopter ready for take off. Headphones on, buckled in, my heart a pounding!  I calm myself and silently tell myself I can do this!!!!!
Within seconds, and with a couple of jerks, we have lifted off and are flying over the runway, over Belmond Eagle Island Lodge towards The Okavango Delta in Botswana.  For the first few minutes I am breathless from the beauty, the fear I am experiencing and the fact that I have no door beside me and I literally feel like I am going to fall out.
I slowly start letting myself relax and begin to enjoy this most incredible experience I am having. From flying so low I have unbelievable views of the endless Delta. In flood season the Okavango Delta has an area of 15,000 kilometres. The vast number of colourful small islands, river (creek) channels and hippo highways (paths the hippos walk through at night to forage for food) is never ending. It truly was fascinating to see the areas from the air that we normally drive through on Safari.
From the air we were hoping to find the elusive black rhino that has just been reintroduced into the area. No luck seeing him but the animal sightings from the sky was phenomenal.  Soaring over parades of elephants, rafts of hippos, towers of giraffe, herds of impalas  and endless flocks of birds made my helicopter tour a true trip of a lifetime.
Eagle Island Lodge is an all- inclusive, intimate, luxury safari camp. The stunning tented accommodations include air conditioning, king size beds, indoor bathtub and shower as well as an outdoor shower and a private plunge pool overlooking the Okavango Delta. The Fish Eagle Bar is unique because you get to it by boat. So in the evenings for sun-downers we were met at the camp pier and transferred to the bar for cocktails. The Fish Eagle Bar was voted by The New York Times as one of the 10 most romantic brs in the world.
I am in love with travelling to Africa! Flying over the Okavango Delta with Helicopter Horizons was truly one of the most incredible experiences, and certainly in my top 3 African adventures, I have ever had.