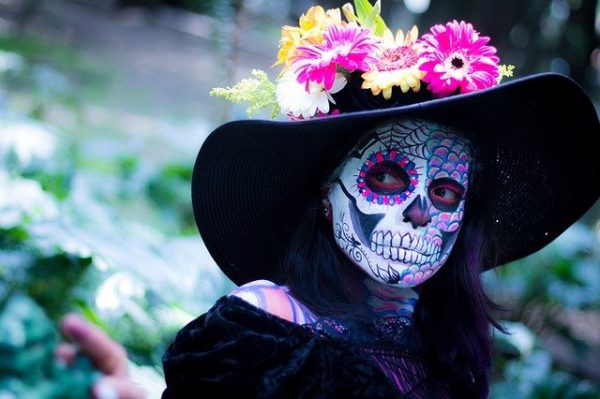 The introduction by the church of All Saint's Day and All Souls' Day led to the celebration in Mexico and other Latin American countries, of Dia de los Muertos – Day of the Dead. A slight misnomer, it's actually a two-day event, November 1st and 2nd, filled with festivals and lively celebrations, combining Indigenous Aztec rituals with Catholicism, brought to this region by Spanish conquistadores.
The belief that all of their loved ones who had passed on would be insulted by sadness and mourning means that, during Dia de los Muertos, people joyfully celebrate the lives of the deceased with food and drink, parties and activities the dead enjoyed in their lives. During these two days the dead are awakened from their eternal sleep and become a part of the community, sharing celebrations with their loved ones.
The symbols mostly associated with Dia de los Muertos are the calacas and calaveras (skeletons and skulls) that appear everywhere during these festive days, especially in candied sweets, parade masks and dolls. Rather than being scary or menacing figures, they are always shown as being dressed in colourful, fancy clothes, in funny situations and generally enjoying life!
Other important features of this time of festive remembrance are the cleaning and decorating of the graves of family members; creation of an alter honouring deceased loved one, either at their grave or in the home; offerings to them such as toys and candy, alcohol, candles, cempasuchiles of flor de muerto (marigolds); pan de muerto (sweet bread); sugar skulls, often with the name of the deceased written in icing on the forehead; graveside vigils by candlelight; displaying calacas (decorated skeletons) and calaveras (skulls). In Mexico City and, to a lesser degree in some smaller cities, people (especially children) paint their faces in the well known pattern to take part in Catrina parades.
So, even Dia de los Muertos can trace its beginnings back to the Celtic celebration Samhain, in a roundabout way, and shares some similar rituals. So, thank you to the Celts and Druids of ancient Ireland!