It could be both! New Year's Eve in Reykjavík and, indeed, throughout Iceland, is a crackerjack of a holiday!
If you would like to go somewhere special for New Year's but also want to do some Northern Lights hunting, look no further.  Think Iceland!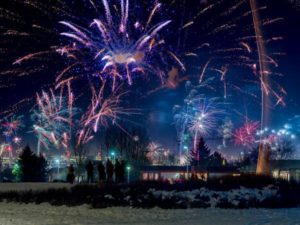 Here is what most Icelanders do on this special night each year.
Dinner – most Icelanders have a lovely, big meal at home with family and friends. Rarely will you see locals eating out on this night.  Until just a few years ago most restaurants were closed New Year's Eve so staff could stay home.  But these days quite a few restaurants, especially those located in major hotels, stay open and serve a special, holiday menu. Advance reservations are required, which can be made when your trip is confirmed.
There are some New Year's Eve packages that we can arrange for you that include your accommodation, transportation around the city on New Year's Eve as well as dinner, which is the best way to get everything included hassle-free.  One of the favourite spots for a New Year's party is the Perlan, perched on top of a hill, so the view of the fireworks from there is spectacular.
Bonfires – This custom of communities having bonfires New Year's Eve dates back to the 18th century, although it's believed to have a pagan origin.  Whatever the reason for them it's loads of fun travelling from neighbourhood to neighbourhood visiting their bonfires, 10 in all around the city  The bonfires are simple and somewhat un-organized affairs. They are lit up at 8:30pm, people gather around the fire, some sing, children light sparklers and small flares.. Ægissíða in Reykjavik is one of the most popular locations.
Ármótaskaup – at 10:30pm every single Icelander old enough to stay up this late and watch TV, sits down to watch a special, one-hour TV show called Áramótaskaup, which gives a satirical round-up of the year past. This is a highly anticipated event, when many notable Icelanders receive a friendly, if perhaps not so veiled, slap on the wrist for their behaviour during the year!  All is very quiet from 10:30-11:30pm and even the streets of Reykjavik are basically deserted!
Fireworks – as soon as Áramótaskaup is over at 11:30pm people flood out of their homes and the fireworks begin. When Icelanders tell you that the fireworks at midnight are crazy, they aren't exaggerating – they are, as a people, fireworks crazy!  The whole sky in all directions will be lit up by brilliantly coloured fireworks and it will be a sight you'll never forget.
This quote from Iceland Magazine says it all!  "The craziest fireworks show you will ever witness is probably the New Year's Eve display in Reykjavik. The very relaxed fireworks regulations in Iceland give a large part of the population the opportunity to let their inner pyromaniac loose in this spectacular way. On a typical New Year's Eve more than 500 tons of fireworks are blown into the sky in Iceland".
If you want to release your inner pyromaniac, too, and take part in setting off some fireworks or at least lighting up some sparklers or flares, you can purchase them from the Icelandic Rescue Squads. This is the organization's main source of income so people are happy to support them with buying what they need (and more). The stalls are usually located next to Perlan (The Pearl) and the Vesturbæjarlaug swimming pool, which would be the closest spot to downtown.
The best places to watch the fireworks – the three places that are convenient for visitors staying in the downtown region are Hallgrímskirkja, the churchyard of the Catholic Church downtown and the Perlan.  Hallgrímskirkja has a great atmosphere and the chance to meet a lot of people.  Getting a photo of the church's tower with the sky filed with fireworks is iconic.  The churchyard of the Catholic Church gives a great viewpoint and lots of opportunity to mingle with the locals as well as other tourists.  However, neither of the churches offer a truly panoramic view of the city. Perlan (The Pearl) on the other hand offers a full 360 degree view of the whole city.  This is where the tour buses go, but Öskjuhlíð hill is big enough for everyone, whether you are on a tour or make your way their on your own.
Party into the night – Reykjavik is known as a party-hearty city, but not so much on New Year's Eve.  Most Icelanders stay home and house parties with family and friends are common. There are sure to be some spots open for you to continue celebrating into the wee hours should you not have an early tour planned for the morning.  The Reykjavik Tourist Office or reception at your hotel will be able to give you some ideas about what will be open.