I had a few extra days before and after a conference I was attending in Iceland so my wife, Margot and one of our sons, David, decided to come along for a vacation in this amazing country.
On October 2nd, David and I went scuba diving and Margot went snorkelling and experienced the clearest water in the world.  We were diving in a rift between the North American and European tectonic plates in Thingevillir Park, at a dive site named Silfra.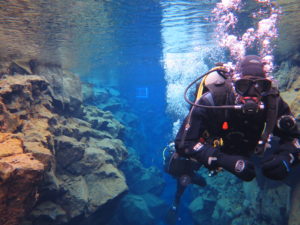 We have a great diving company partner in Iceland that we work with and they were our guides for the day.  We drove to Silfra to meet the guide, but we can also arrange for our clients to be picked up right from their Reykjavik hotel.  So, no car?  No problem!
Once we got to the Silfra meeting point we dressed in our dry suits (you bring long underwear, tops and bottoms, and two pair of heavy socks).  The dive company provide thermal onesies and dry suit to keep you dry and warm.  For David and I this was our first dry suit dives and the instruction and guidance by our guide Rob was exceptional.
From the dressing area we walked to the staging point at the water.  We had two 35 minute dives separated by an hour long warm up (the water was 2c and we found our lips and fingers were numb when we finished each dive).
The view of the cathedral like walls of rock as you gaze upwards through this fantastically clear and blue water is breathtaking.
Margot is an experienced snorkeler and found the whole experience to be one that can be enjoyed by anyone who has a bit of snorkelling experience.  Even those who have never snorkelled before could give it a try. She also loved the views and, once properly dressed, did not find the cold to be overwhelming.
Note: I did not say that we were warm in this dive – this is not the Caribbean – just that the cold was manageable.
Loved the dive!  I would highly recommend it to anyone desiring a truly unique experience in the world!