The brochure was very specific and it has caused me great concern. 15 KG of luggage is allowed. Are they serious? How on earth was I going to do that?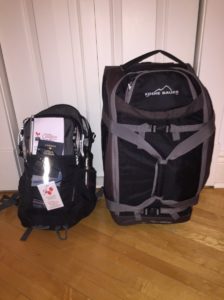 This is probably what causes the most questions and concerns for our clients when they go on Safari. So having returned from my trip to South Africa & Botswana, where I was on Safari at 3 different camps and spent time in Johannesburg and Cape Town, I thought I would lay out everything I took. Hopefully this gives you an idea that the allowance is really not much of a burden.
The key to dressing and packing for a Safari:
LAYERS: a game drive at 5:30 am is a lot chillier than one at 4 pm. You need to dress for both. It is also important to note that despite our perception of Africa = hot, it does not have blanket applicability. An early morning game drive in Botswana in August will have you wearing long underwear and a toque
LAUNDRY: every camp that we go to has a wonderful same day laundry service. Put out what you want cleaned and by the end of the day and it is returned, clean and folded. Note: some camps throughout Africa that have a greater Muslim influence will not accept undergarments. However, every room has the ability to wash them in a sink and hang on your in-room clothesline
The first photo shows the end result. This second photo is everything that went into those two bags and I can attest that the whole ensemble weighed in at 14.6 kg!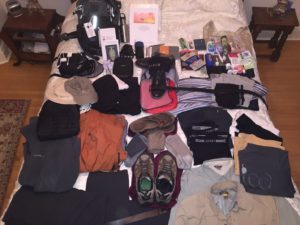 What did I take?
For the airplane and in the cities:
My own preference is to dress a little more formally when I travel and stay in cities. This is my personal preference and is not a requirement. As a result, I took a pair of dress shoes and a dress shirt
Dress jeans
T-shirt
Dress shirt: buttoned
Dress shoes, with one pair dress socks
Belt (always in same colour as shoes: fashion tip)
A thermal light-weight long sleeve jacket. This is the kind that can be folded up and fit into a pocket (like a puffball). As you will wear this on your game drives the colours should be muted – no glow in the dark or bright neon colours please – it blinds the animals)
On Safari:
Walking shoes – I don't find the hiking boots (above ankle) necessary as for the most part you are in a Jeep all day
3 pairs of socks
2 pairs of light weight convertible pants – they zip off at the knees to convert to shorts. I brought a grey pair and a khaki pair
3 pairs of underwear (one pair is on the plane – so total is 4)
Belt (to match walking shoes – the wildlife is very fashion conscious)
2 t-shirts (remember you are already wearing a t-shirt on the plane so you will be taking 3 t-shirts in total)
2 long sleeve, light-weight safari shirts. Even when it is hot you may be wearing long sleeves during the day so as not to burn in the sun. I took a khaki and a light green colour. You can then mix and match with the pants
2 hats: one Tilley large brimmed and one baseball style cap
Rain coat: this is a debatable item to take. If it rains you will be either sitting in a Jeep and they all have full length ponchos available (which are a much better idea when you are seated) or in camp (where an umbrella is perfect)
A polar fleece jacket fully zippered: easy to lounge in at night and one more layer. This may not be necessary if taking a puffball jacket and visiting Botswana in October when it is 35C everyday
To lounge in camp:
Sandals or flip-flops
Bathing suit and cover-up if you plan to bask by the pool in the mid afternoon
Shorts for lounging in your tent
Pyjamas
2 golf shirts – I use these for lounging, for dinner at night sometimes or even for wearing under the long sleeve shirts. I just find them to be dressier than a t-shirt.
Cold weather additions:
Light-weight long underwear
Light-weight long sleeve under shirt
Light-weight gloves (not mitts)
A toque
A scarf to wrap around your neck
Margot's differences:
This packing list and pictures are presented from my point of view – a male. My spouse, Margot, added or replaced the following:
Capri pants for one of the zip convertible pants
Bra – sports type – as the bumpiness on the road for hours is an important consideration
A fashion scarf was worn most mornings
In the Knapsack: – Carry on for the plane:
All travel documents: including a photocopy of all passports, driver's licenses, and credit card stored somewhere. Note: every camp had in-tent safes
Copy of your itinerary
Camera gear with all necessary lens, batteries, memory cards, chargers. I used a point and shoot and did not take a specific camera bag. Rather, I wrapped it in a t-shirt and did the same when we were in the Jeep
A computer or iPad with its own charger
A phone or iPhone with its own charger (the capabilities of phones to take fantastic photos and short videos is spectacular). Many of the photos on our website are taken with an iPhone
Plug adapters: South Africa is a tricky one (the prongs are big and fat). Botswana, Namibia, Zimbabwe are different so take a universal adapter
Noise cancelling headphones – it is a long way over there and the ability to shut out all airplane noise makes my ride much more comfortable – however they are bulky
A journal to write your notes and thoughts down
A good book for the airplane and afternoons in camp (remember you are NOT on a game drive from 11-4. Lunch, the pool and a siesta are the chosen activities)
Binoculars: every jeep has ONE pair. HOWEVER, if you are at all interested in birds, they are very important to have along. If you are interested here is a GREAT guide from the Audubon Society: http://www.audubon.org/gear/binocular-guide
A bag of trail mix
A water bottle – you can either bring your own or buy a water once you have gone through customs. Remember you will dehydrate on a plane as you are in a pressurized cabin
Toiletries:
Anti-malaria pills (we take Malarone)
Hand sanitizer
Sun screen
Mosquito repellent – it is provided by the camps but if you have sensitive skin, I would take a product that you know
Tissues and toilet paper (a mini travel roll)
Other personal toiletries – remember to take only what you will need as opposed to large volume bottles. Pack all liquids in a ONE – quart, see-through pouch for easy custom clearance
We also took a very light-weight expandable bag so that we could bring home any larger souvenirs we may have purchased.
 IT ALL FITS – AND YOU DID NOT WEAR THE SAME CLOTHES EVERY DAY! YOU CAN DO IT!!
Of course, don't forget your Great Canadian Travel Group luggage tags!