Winter is coming… well, not really, but my train is coming to Dublin station. It's 7:20 in the morning and I am on a Railtours Ireland train for a 2 day, 1-night trip to Belfast, complete with a Game of Thrones and Giants Causeway tour.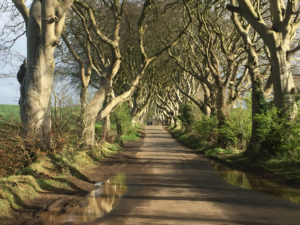 We are met by a Railtours Ireland host who greets us and settles us onto the train.  We are all seated in a reserved section and are ready for our 2 ¼ hour trip through the stunning countryside to Belfast. After enjoying breakfast in the dining car, we were already in Belfast ready for our day.
Upon arrival, I was transported to a shuttle that took me to my hotel to drop off my luggage and review the agenda for the trip. I was given a voucher for the hop on hop off double-decker bus tour through Belfast. The tour stops at 23 historic sites such as the Belfast Peace Murals, the Crumlin Road Goal (Jail), as well as many other interesting sights in the one and half hours it takes to complete the circuit. I stepped off and toured the must see Titanic Museum which, in 2016, received the distinctive award of a world's leading tourist attraction. The Titanic was built at the Harland & Wolff Shipyard and was docked in Belfast between 1909-1911. The museum is a multi media interactive exhibit housing many artifacts and facts about the famous 'unsinkable' ship.
The next morning, I boarded a sightseeing bus to go and see five of the filming locations for the TV series the Game of Thrones. Even though I have not seen the series, it is fascinating to see how excited and overwhelmed some of my fellow passengers were in seeing and talking about the sights and the series.
After be guided through the King's Road, we set our sights on The Giants Causeway, a UNESCO World Heritage Site. This ancient volcanic region, with over 40,000 basalt stone columns, is an incredible sight to see. The walk to the water's edge and through some of the columns is magical.
The biggest surprise of the tour was the overwhelming beauty and spectacular views we enjoyed while driving around the Belfast area; little bays with sea side vistas were plentiful.
After a very interesting day, I was dropped off at the train station for my relaxing trip back to Dublin. I would highly recommend doing this overnight trip. The spectacular scenery and history of Northern Ireland, with a little fantasy thrown in, made it well worth the tour.