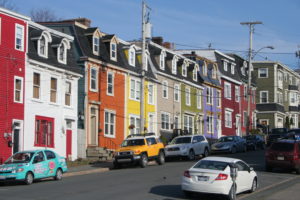 My husband and I always wanted to travel to the East Coast.
One day, we were discussing with some friends from Calgary that we need to meet for dinner. They suggested seafood, one thing led to another and we had flights booked to St. John's Newfoundland.
Lots of people talk about travelling to the east coast in summer or fall, to see the beautiful changing of nature's colours. We travelled to St. Johns' Newfoundland at the end of May. We were anxious to see the 'bergs and bergy bits' coming down Iceberg Alley!
Reading about it, or hearing someone talking about the icebergs is exciting, but it can never compare with the true wonderment of seeing a massive chunk of ice, thousands of years old, float gently by as you gaze in amazement from the shore. There are boat tours that will take you up close and personal to these mountains of ice.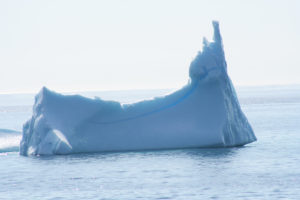 St. John's is a beautiful hilly harbour city. The downtown is known for its full colourful jellybean row houses and the people are very friendly to those that 'come from away'. The conversations were comfortable and easy.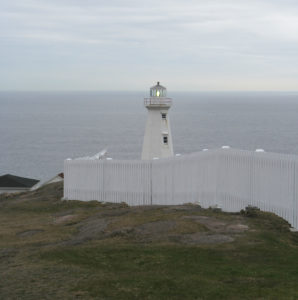 We drove outside the city a few miles to the lighthouse at Cape Spear. Some years ago we were camping at Long Beach, British Columbia, in Pacific Rim Park on the west side of Vancouver Island, and now standing at Cape Spear, the most easterly point of Canada, we were in awe of the enormous size of our country.
After our visit to Cape Spear, we drove up to Signal Hill, a national historic site that overlooks the City of St. John's. This is where Marconi received the first transatlantic wireless communication, and where the Cabot Tower is, which was built to honour John Cabot's arrival in 1497. It is awe-inspiring to be standing on these same locations that have such important historical value.
A couple of kilometres from downtown, sits a little village called Quidi Vidi, which is the home of Newfoundland's most popular microbrewery, and the home of the Iceberg beer. This beer is served in a bright blue bottle made using iceberg water, harvested from pieces of icebergs off the coast and will certainly quench your thirst. At the wharf, there is also a 2 story building displaying the unique handmade items made by local artisans.
Unfortunately, when we arrived we were too early for the 'kitchen party' which is an iconic folk tradition of Newfoundland & Labrador of makeshift jam sessions share with friends in the comfort of the local's homes. Instead, we wandered down George Street, which is a 2 block stretch of restaurants, bars and live entertainment. A walk down this street is a must when visiting St. John's. We also found out that the tradition to become an honourary Newfoundlander is to have a drink called Screech (which is a type of rum) and kiss a codfish!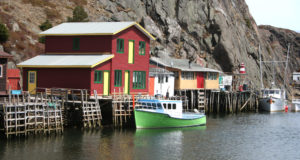 Our hotel was on the harbour front, so we spent our evenings walking in this area and enjoying the different restaurants. The seafood was delicious, fresh and plentiful! My husband vowed to only eat seafood while in Newfoundland. Over our entire time in St. John's, only once did he eat something other than seafood. To be honest, he did have bacon and eggs for breakfast!
There are lots of sites to see in St. John's and in Newfoundland in general.
There we were….On the harbour front.
Don't say anything. Just breathe in the air.
And smile.
You're in Newfoundland.