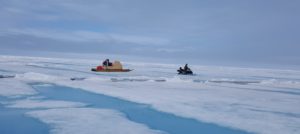 After a few visits to Arctic communities in my past travels, I finally got to experience the floe edge.  And, what an experience it was!
Approximately 25 miles, just under 2 hours riding in a kamotiq pulled behind a snow machine, we arrived at the edge of the ice.  It was almost surreal… the beauty, remoteness and peacefulness. The only sounds were the gulls overhead and the sound of the water.  Where the ice stops and the open water begins.
The floe edge gives great opportunity for viewing wildlife, such as seals, whales, polar bears, and a wide array of bird life. We were lucky to spot Eider Ducks, and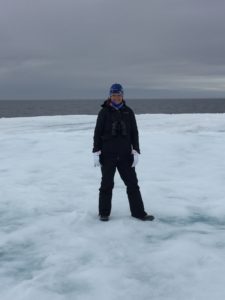 about 50+ ringed seals.
The experience and pure beauty of the ice with its amazing blue colours of the water and crevasses, it was truly an amazing day.
Remember to dress in warm layers, with toque, gloves and warm boots.