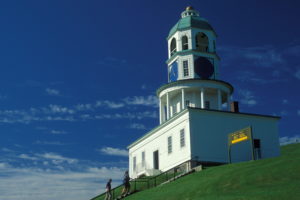 Halifax, Nova Scotia is an appealing city with the friendliness of a small town but all the amenities you would expect to find in a modern, urban centre. Its city centre is compact and very walkable with lots of shops, cafes and restaurants, attractions, the harbour-front and loads of accommodation options, all easily accessible. Destination Halifax says this about Halifax – "An urban centre wrapped in seacoast and history – you'll want to see for yourself!". I think this is a pretty accurate description!
I've had the opportunity to visit the Maritimes, particularly Nova Scotia and specifically Halifax, many times during my travel career. Every visit has offered me new experiences and gifted me new memories (along with trinkets) to add to my collection.
My heritage is Irish on both sides of my family tree, with grandparents and great-grandparents emigrating from Ireland to Canada in the 1800's,most during the potato famine and others came later on, to join siblings already here. So, one of the very first places I went to visit in Halifax was Pier 21 and the Canadian Museum of Immigration. Reading the various immigration stories was touching, inspiring and gut-wrenching all at the same time. So many people, including many of my ancestors, arrived on our shores due to dire circumstances in their home countries and they gave up everything they knew to come to this unknown country. It made me appreciate how very courageous they were! The Family History Centre at the museum is a free, reference service that helps people trace their own family's immigration stories and has access to arrival records back as far as 1865 for, not only Pier 21, but all ports of entry in Canada as well as US seaports like Boston and New York. I discovered that some of my relatives had arrived at the Pier 21 immigration hall, while others were on ships that disembarked in Quebec City and Montreal. My time at this museum was fascinating and it's a place I will surely return to.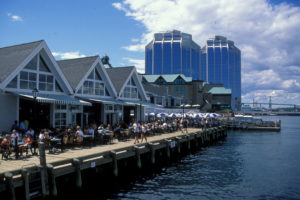 The Halifax Seaport is a vibrant arts and cultural district, stretching from Piers 19 to 23. It features the Halifax Seaport Farmer's Market, the oldest continuously operating farmer's market in North America, established by royal decree in 1750. It hosts over 250 vendors daily and I actually found the aforementioned dulce to take home as a gift for my sisters. Also in this area is the cruise terminal, cafes and restaurants, galleries, a museum, a university and a good variety of artisan shops.
One of the things Halifax is most famous for is Alexander Keith's beer, and a visit to the 197-year old beautifully restored and renovated brewery is well worth it. Alexander Keith was born in Halkirk, Scotland in 1795 and at the age of seventeen learned the art of brewing and malting from his uncle in Sunderland, England. He sailed to Nova Scotia in 1817 and opened his brewery on Lower Water Street, Halifax in 1820, pre-dating the establishment of Canada as a nation by 47 years. By 1863 Keith's Brewery was producing over 100,000 litres of ale per year – that's about 1,700 kegs annually or 547 pints of beer a day. That's a whole lot of "cheers"! Luckily the brewery was spared destruction in the devastating Halifax Harbour explosion of 1917, which sadly wounded and killed thousands.
From the Keith's Brewery you can wander down to the Halifax waterfront which is a working port and home to one of the world's longest, downtown boardwalks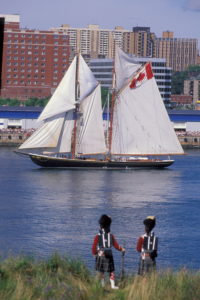 at nearly 4km. Pay a visit to the Maritime Museum of the Atlantic, which houses a collection of Nova Scotia's marine history from the age of steamships, the Titanic disaster, the Halifax Explosion of 1917 and WW II convoys and the Battle of the Atlantic. There are boat tours offered in the summer season out onto the harbour and for whale watching, or you can tour through the majestic schooner, the Bluenose II. Browse the many little shops along the waterfront and at The Piazza at Bishop's Landing, featuring everything from locally produced, handcrafted crystal to unique gifts and souvenirs. Or enjoy a great meal of local, Nova Scotian seafood paired with a Keith's or a nice glass of wine! And there are excellent restaurants in the downtown area as well. My personal favourite was always the Economy Shoe Shop, which used to be a shoe store, converted to a cozy, eclectic restaurant about 22 years ago. First time I'd ever had fish with a chocolate and coffee sauce (and it was, surprisingly, absolutely delicious!). Note: Sadly, this restaurant closed in April, 2017, so no encore visits for me there. Too bad, it was a really neat place.
From the waterfront, all the way up the hill to the very top is the must-visit Halifax Citadel National Historic Site. The fort was built in 1749 to protect the city and once you're at the site you can immediately see why it was chosen – it has a commanding view of the whole Halifax harbour and is a strategic location for defense. The Citadel's unique star shape is very impressive both inside and out. There are meticulously recreated period rooms, including the barracks, tailor shop and school. You can step back in time with the 78th Highlanders and the 3rd Brigade Royal Artillery to learn what life was like for the soldiers and their families who lived here over time. Surrounded by the call of the bagpipes and beat of the drum in this historic place will make you feel like you're part of history come alive. And this year, for Canada's 150th, entry is free to all National Parks, including the Halifax Citadel.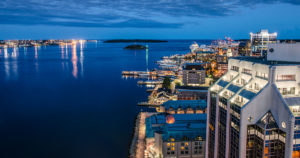 And, there's no way I could talk about Halifax without mentioning music. The Scottish and Irish influences are evident throughout the Maritime provinces and certainly in Nova Scotia. There is often live music at many restaurants and pubs in Halifax's downtown and waterfront areas. My two girls know all the song's on the McGinty's Ballads & Bar Tunes CD that I purchased from the band when I saw them performing in a bar during one of my visits a number of years ago. Still my favourite collection of East Coast bar tunes and an oft-played road trip CD! And I'll never forget hearing Cape Breton's Tom Leadbeater, another local talent, perform Danny Boy, Working Man (dedicated to the Cape Breton coal miners) and Farewell to Nova Scotia.
I haven't even touched on my trip across the bridge over the bay to Dartmouth, or a self-drive out to nearby Peggy's Cove and Lunenberg. But, those will have to wait for another time!