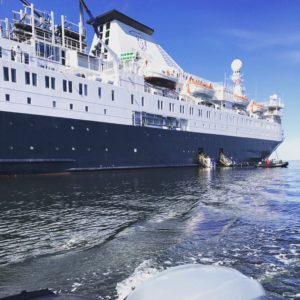 This unforgettable journey lived up to being 'One of National Geographic Traveller's 50 Tours of a Lifetime'. This is an 'expedition style' vessel with almost daily zodiac treks and cannot be compared to other passenger cruise ships.
The passengers ranged from ages 20 to 89 years of age. It was evident that safety was of utmost importance to the crew as our first directives were a complete review of shipboard procedures should there be an emergency of some sort along our way. We were just under 200 passengers, which made for a very individual and personalized service from the staff; from the room attendants, to the kitchen staff to the ship's personnel. For the food lovers out there, there was no shortage of food. Unlimited breakfast and lunch buffets with a variety of options to please every palate. Dinner was served from of choice a various featured menu items including soups and salads; and choices from salmon, beef, pork, poultry and pasta. There were multiple lounge areas with a daily tea/coffee and snack areas for the afternoons. Evening briefings were to inform us of the following day's activities to choose from, including hiking or exploring the next village or staying on the ship if you so desired. We also had the option of renting bicycles to use ashore as well. There were information sessions with Geologists or Nature / Bird Specialists or even Musical Therapy Sessions. There were also daily yoga sessions and photography sessions offering to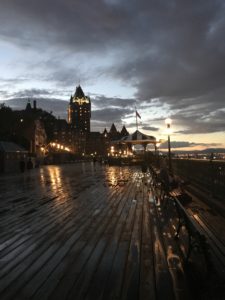 loan out professional cameras for capturing your own memories.
After your daily adventure you could relax in the hot tub or the swimming pool; the water was as warm as a bathtub. We were also offered a tour of the ship's Bridge where we saw the navigation system of the ship. Great attention to all details of daily activities offered with daily briefings for the following day's planned events. In room reminders of the upcoming activities were on the television screens in every room.
It is impossible to single out any one employee as the entire staff was impeccable with their service and attention to all of our needs, questions, or concerns.
In that this particular cruise was largely exploring the Province of Québec, among other Atlantic provinces, it was very apropos that our departure began in Québec City on June 24th (which also happened to coincide with la Fête de St Jean Baptiste Day). We walked the streets of Old/Vieux Québec for hours, taking in the street performers and cafés. One can experience the funicular (a type of cable car) linking the Old Port to the boardwalk just outside the Château Frontenac which also happens to be a National Historic Site of Canada. A spectacular view of the Mighty St Lawrence awaits you atop the cliff.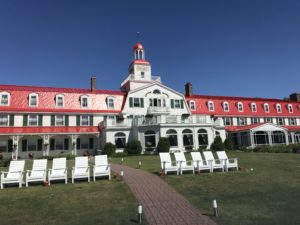 Our adventure would take us to Tadoussac, still in Québec, where the St Lawrence and the Saguenay Rivers meet. A glimpse of days gone by visiting the first official fur trade post in Canada dating back to 1600, a tiny chapel, on to modern day shops and a whale museum, all in short walking distance. You will be drawn into stepping into the splendid Hotel Tadoussac with an impressive red roof also overlooking Tadoussac Bay. There were musicians playing music on the beach and whales in the Bay.
This would also be our first zodiac ride to our home for the next while aboard the Ocean Endeavour. This ride set the tone for the rest of our cruise as we would be going ashore at numerous ports using the zodiacs. We had a room with a window and porthole view onto the river which we would often look through for whales and other marine life or even ocean waves.
Our next stop was the village of Métis sur Mer where we wandered through 'Jardins de Métis/ Reford Gardens' with International displays of different art mediums as well. We then happened upon some of the locals as the arrival of a ship was big news among the village residents and the local media Radio Canada and TVA and local 'le Journal L'Avantage' among others were ashore to greet us. Included among our other stops were also Havre St Pierre and the Mignan Islands and Forillon National Park.
Other stops along our cruise included the birthplace city of Canada, Gaspé, Bonaventure Island, and one of the largest natural arches in the world – Rocher Percé
Rock and Cheticamp, Nova Scotia.
The journey continued to the small archipelago les Iles de la Madeleine/Magdalan Islands, made up of seven inhabited islands. More hiking along beautiful red sand beaches and red cliffs. Our options were to enjoy sea excursions, visits to local art galleries and studios. In our case, my daughter happened, by chance, upon a distant cousin. We had a private tour around the islands and visited with the locals while taking home some souvenir sand dollars. This day also happened to be Canada's 150th Birthday. From our ship's deck we witnessed a wonderful fireworks display presented by the Islands from the distant shore. Adventure Canada topped off the celebrations with champagne and Birthday cake for everyone! It was a truly unique and unforgettable way to
celebrate our wonderful country.
We had a mysterious foggy morning of touring the nature of Garia Bay, Newfoundland with our cruise expedition nature specialists and photographers offering their knowledge of birds and plants. Then there was the added special touch of the shipboard entertainment being brought to the shore for a music workshop, if we were so inclined. This day would also be our final zodiac ride topped off with a gourmet 'hot chocolate' toast served by our ship's wonderful dining staff from another zodiac alongside ours. An extra special touch of class to close off the adventure.
Our next stop was the French Islands of Saint Pierre and Miquelon. Exactly like stepping onto the streets of any city in France with cobblestone streets and shops and restaurants but topped off with a bonus close up view of a Lighthouse. Lunch and some duty free shopping was the itinerary for the day. We also said goodbye to some of our fellow cruisers as they disembarked for their flights home. We had, however, opted to stay on the ship for another night to end our journey with an additional night in St John's, Newfoundland. The colourful houses and huge ships were an amazing site as we cruised through the narrows of St Johns Harbour, piloted by a smaller vessel. It was time for back to reality on land as we explored the city sights. We really found it interesting listening to the unique conversations of the locals, who almost seemed like they had foreign accents. We even encountered some former Manitobans. Was it really already time to leave the comfort of our cabin? Je me souviens!