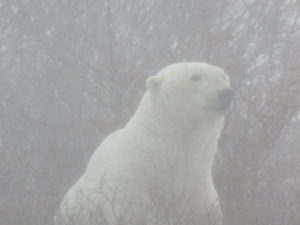 Day two on the sub-arctic terrain and there's a snow storm! Flights were grounded, but we were nice and cozy warm in the Tundra Buggy Lodge and then later on the Tundra Buggy… until someone spots a bear or bird or fox and opens the window so they can try and get that great photo. Even through the snow, you can see the amazing life hunkering down in the snow.
It was still dark out when I woke up, and it took me a second to remember where I was. And then I looked out my window and saw the vast tundra stretching out into the darkness. Oh yeah! I was in Tundra Buggy Lodge on Polar Bear Point!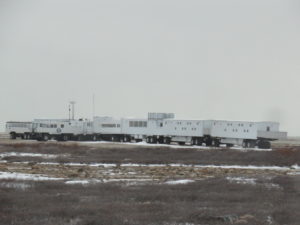 I climbed down the ladder, put on my fluffy slippers and headed to the dining car for some coffee and breakfast. A standard breakfast of eggs, bacon, and toast, plus beans and fruit was served. It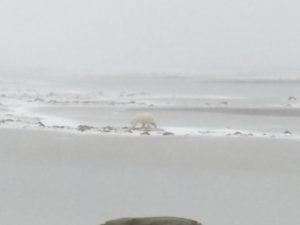 was stormy out.
After breakfast, Kevin, opened the door to Buggy #12 and we loaded ourselves and wait. He started the engine, put it in gear and basically made it an inch before seeing a polar bear. The bear was munching on some kelp, right in front of our lodge. He was a big boy and gave us quite a show. We manoeuvred a little bit so that we'd get a better view and lo and behold, we saw another bear!
While watching the second bear, someone spotted a silver fox hunting for the snow bunting that are currently forging for food.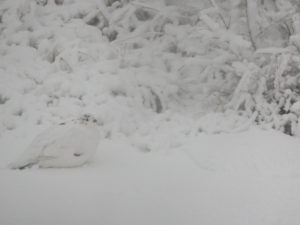 We cruised around the taiga in the Tundra Buggy, spotting fox tracks, ptarmigan and lots and lots of rocks (sometimes those rocks were mistaken for bears, but upon further investigation… they were rocks). We stopped for lunch and made our way back to the lodge to drop off the dishes. The wind was blowing and the snow not so much falling as it was more travelling sideways. We dropped some people off at the lodge so they could have some down time off the Buggy and then we were on our way again with a little bit of a lighter load. We spotted a Snowy Owl which was one of the highlights for me. It was an immature owl that blended well with the landscape, and soon disappeared from view.
It was nearing the end of the Buggy time so we slowly made our way back to the lodge for appetizers and a dinner of elk tenderloin and rhubarb cake with maple cream cheese icing. And wine. Did I mention there was wine?
After the tables were cleared, we had an informative talk done by the Polar Bear Institute about foraging and sea ice. Polar bears have giant territories! We had another evening spent chatting with the other travellers and an early night. The wind was still blowing but by this time, most of us have developed our "sea legs" and can walk without having to brace ourselves on the wall for balance. As I climb up my ladder and crawl into bed, I am happy to have been able to see what I saw and experience part of Manitoba that not many Manitobans have experienced. I drifted off to sleep thinking of polar bears as the wind gently rocked us all to dreamland.