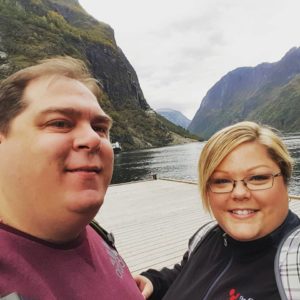 Norway in a Nutshell is advertised as one of the most scenic trips in the world, and now that I have been able to take this tour, I absolutely understand why!
This tour is a flexible FIT tour that is designed to be customized to best fit your needs. It can be done either Bergen to Oslo, Oslo to Bergen, round trip Bergen and round trip Oslo.  Each direction has its pros and cons. It is designed to be anywhere from 1 day to 4 or 5 days or more!
Due to my time limitations, I took the tour from Bergen to Oslo, and as a 1-day tour. Pros for travelling in this direction are it is the least common of the two directions so the trains/buses/boats tend to be a little less full and there is a long train journey from Myrdal to Oslo that happens at the very end of the trip so it is nice to have this at the end of your busy day to relax. A con is there are sometimes longer connections between the modes of transportation.
We used a porter service to transport our bags so we didn't have to lug them around all day, this is absolutely worth the extra money.  We were instructed to have our cases down in the lobby of the hotel by 6:30am on the day of departure, and while we were having breakfast we saw the porter service stop to pick up the cases from our hotel in Bergen.  When we arrived in Oslo later that night, our cases were there and waiting for us! Fantastic service that is well worth the cost.
From Bergen, our first portion of the trip was the Bergen Railway from Bergen to the town of Voss.  This train is a basic commuter train, and we were booked on the 8:43am departure from Bergen.  These trains leave on time every time, so make sure to be a little early!  There are no washrooms or meal service on board, but this train was just a little over an hour, arriving on time in Voss at 9:56am.  The scenery along the way was lovely.  Little villages and nice green valleys, getting us ready for the amazing views coming to us later in the day!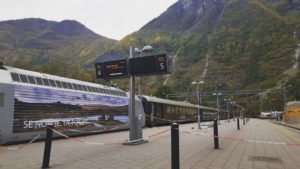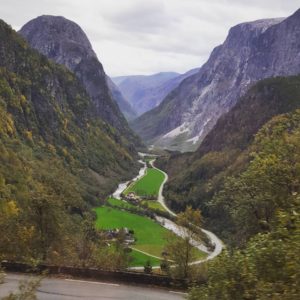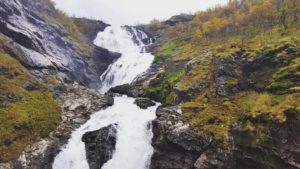 The connection when arriving in Voss is a little tight, with the bus to Gudvangen booked to depart at 10:10am.  From the train, you turn left and follow the signs to the city center of Voss and there are buses waiting.  There are a few different variations of the tour, so be sure to get on the right bus!  Once a bus was full, it departed to start the 1 hour, 5-minute trip to Gudvangen.  The bus trip started just as the rail trip had, nice little villages, some waterfalls, and then all of a sudden out of no-where we start descending this incredibly steep hill (mountain really!) with tight switchbacks.  Our driver was fantastic, and even stopped a few times for us to take in the incredible views down to the valley. This was our first major wow moment of the day, and it was something we will never forget.  At the bottom of the valley we arrived at our next destination – Gudvangen.  Nothing more than a little gathering of buildings (including a small Viking themed hotel which looked pretty neat!) acting as the port of the fjord cruise portion of our trip.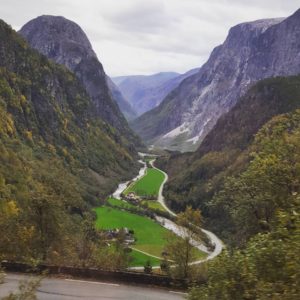 At this time, there are 2 different options for the fjord cruise, either the classic boat or the premium boat.  There is of course a price difference.  The type of boat selected dictates how long you need to wait for the boat.  The passengers who were doing the premium boat (more modern, does not move cars, nor stop at villages along the way) only had to wait about 35 minutes for their boat.  We were doing the classic trip with a more traditional ferry type vessel that handles cars and stops to deliver mail to the small villages, and we had a 1 hour, 30-minute wait.  This was fine with us, as we grabbed lunch and sat and stared at the incredible view!  The food is very basic cafeteria style food, but was good enough to get us by.
We boarded our cruise, and we spent the next 2 hours cruising through some of the most beautiful scenery I have ever seen!  We cruised in the Naeroyfjord and the Aurlandsfjord and it was simply stunning.  Waterfalls, and little communities only accessible by boat – we couldn't look away!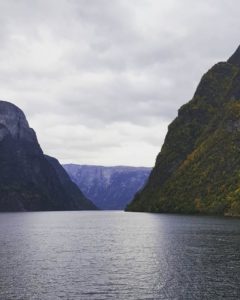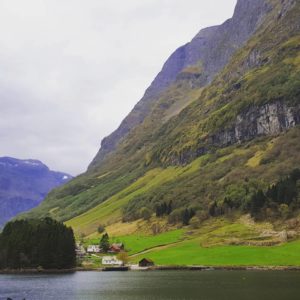 We arrived in Flam just before 3:00pm.  If you are looking to break up the journey a little bit, this is a great place to do that as there is a beautiful hotel just steps from where the boat docks.  As we were travelling it all in one day, we had just over an hour.  We visited the bakery for yummy pastries and hot drinks and wandered around the little village.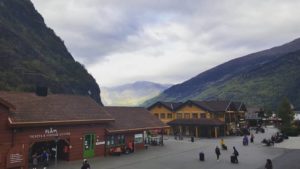 Our next journey departed at 4:05 – the world-famous Flam Railway.  This is what a lot of people take this trip for – this one-hour journey.  It is an old train with a mostly wooden interior.  We started the journey, and lucky for us, our train car was mostly empty, which was good as we kept moving from side to side to take in the incredible scenery!  The train makes one stop at Kjosfossen waterfall, and we were able to get out for about 5 minutes to take in this beautiful site.  A platform has been built which makes it a little easier to access.  The water from this waterfall produces the electricity for the Flam Railway!
We arrive in Myrdal next, just after 5:00pm.  There is nothing in Myrdal, you will not leave the station.  There is a very small café (they have cake and hot dogs), and a few tables and chairs.  This station is unmanned.  We had just under an hour here, which is a pretty long time in this type of station, but we made friends with a lovely couple from Australia and passed the time quickly!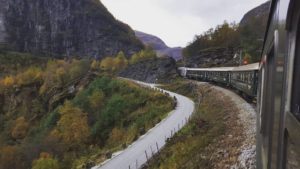 Our train to Oslo departed at 5:56, and was set to arrive in Oslo at 10:35pm – very long time!  On this portion of the train, you have assigned seating, there are power ports to charge devices (welcome after a long day of lots of photos!!) and there is wifi.  There was a strong connection however the wifi never actually worked for us.  There is a dining car with meals and drinks (including alcoholic) for purchase at very reasonable (for Norway!) pricing.  They have salads, sandwiches, curries and pizzas.  They also have juices, sodas, chocolate bars, chips and other little snacks.  As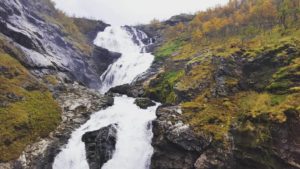 with almost everywhere in Norway, the dining car accepts credit card.
This portion of the journey is very long, and since we travelled late in the year (late September) most of this final train journey was in the dark, so we just took the time to reflect on such an amazing day!