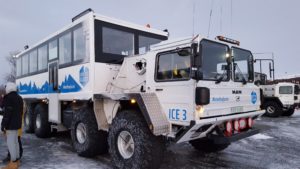 Where else in the world are you able to go into a glacier – other than Iceland!  I was lucky enough to visit one of Iceland's newest attractions recently, and it is so incredibly unique!
We were picked up in Reykjavik from our hotel in a smaller sized mini-bus, and driven a few hours to the base camp at Husafell.  On arrival, we switched to another bus that took us a short distance to meet our modified glacier vehicle for the journey onto Langjokull (Long Glacier) – the second largest glacier in Iceland.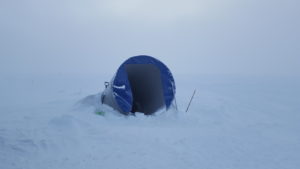 We drive quite a way in this unique vehicle with nothing but white and snow as far as the eye could see.  All of a sudden, our vehicle made a slight turn and stopped.  All we could see was a little tunnel leading into the ice.  We made our way down the tunnel Into the Glacier!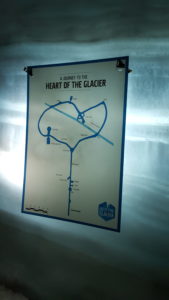 At the base of the tunnel was a small room for our group to gather in.  Here we were provided with ice cleats to put over our shoes and we went over a few rules of being inside the glacier.  Once our group was geared up – we set off with our guide Lilja.
The path that has been carved out in the shape of a heart – as we were in the heart of the glacier.  There is lighting in the tunnels, and in the small rooms that have been carved out (there is even a chapel where you can have wedding ceremonies!), the lighting is a little on the low side, but still adequate to get around.  Since you are walking on ice and the surface can be uneven, it is best if you are relatively sure on your feet.  However, there was a lady on my tour who moved a little slower and walked with a cane, and she was able to make her way around with the rest of the group.
If you get anxious in tight spaces, this might not be the best option for you, however if it is something that you can control for a short period of time, this honestly shouldn't be missed.
There are no restrooms, wifi or cell phone signals – you are cut off from the rest of the world!  Your guide does have a radio and remains in constant contact with the base if something goes wrong.
Once we were finished in the glacier, we made the long journey back to the base camp.  Here, some of my tour mates returned directly to Reykjavik, however I had added on another unique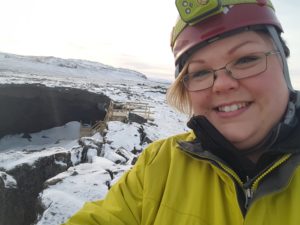 attraction just down the road – The Cave!
The Cave is actually Vidgelmir Cave, and is just shy of 1600 meters/520 feet. It is actually a lava tube, and there has been a wooden walkway built into it so we could walk deep into the tube.  There is low lighting, however you are provided with a helmet and headlamp before venturing down into the cave.  We were also given a lesson on how to properly use this equipment, and make sure it fits properly.  This tour lasts for about 1 – 1.5 hours and is led by a caving expert.  Our guide, from Sweden, was not a Geologist or Speleologist by education, but has a very keen interest in rocks, caves, caving and climbing, and was absolutely fantastic!  He made sure we all stayed together, and if one person was falling behind or wanted to stick around a little longer in a certain area, he was very good about keeping things in order.  There is also surprise at the end of the tunnel – but I won't spoil it – you will just need to take the tour!!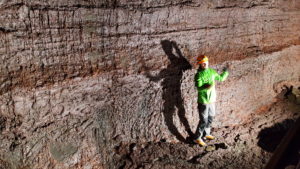 Once finished here, we were transported back to Reykjavik, arriving around 8:30pm.  It was an extremely long day at just over 12 hours, however it was an unreal experience that I would never trade for anything.