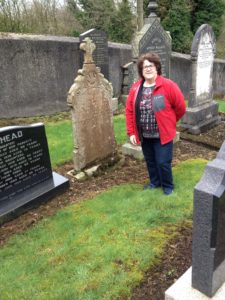 My maternal Grandma, Hannah Muirhead, emigrated to Canada from County Antrim, Ireland (now part of Northern Ireland) back in the late 1800's.  Two of her brothers and a sister had sailed to Canada a few years earlier.  Sadly, her sister died of black fever on the crossing and was buried at sea, but her brothers arrived safely and made their way west to homestead at the Derry Corner, near Douglas, Manitoba. They then invited Hannah to come and join them. I can't imagine leaving my family and everything that was familiar to me and sailing across the Atlantic to an unknown place, all at the age of 19. The courage to do that seems unimaginable.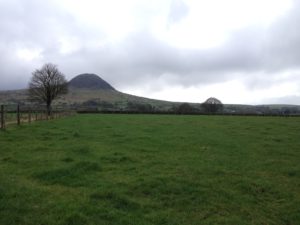 Grandma Hannah's stories of growing up in a big Irish farming family, told with her distinct Irish brogue wrapped around every word and phrase, were fascinating to me. Hearing her talk about building fences out of the ever-present stones that would rise to the surface of the ploughed fields (much like they did on the farm I was raised on in western Manitoba); hours spent with siblings and neighbouring friends, playing in the meadows surrounding nearby Mt. Slemish and walking to the top for fantastic 360 views and trips by horse and cart through the peaceful Glens of Antrim to the now famous Giant's Causeway – these were all tales I grew up with.
I remember how we all looked forward to the Christmas parcel that would faithfully arrive from the family in Buckna (near Broughshane and Ballymena) and her dear school friend every year.  It would hold many treasures like Irish linens (table cloths and serviettes, tea towels and wall calendars), small porcelain figurines for the china cabinet and, me being a young child, favourite treats like shortbread and fudge, both homemade with farm-fresh cream and butter.  My Mom and sister's favourite was the rusty red/brown dulce.  This salty, kind of smoky tasting seaweed, harvested on the Irish shores, was never a favourite of mine and I was happy to give up my share of that for some extra fudge!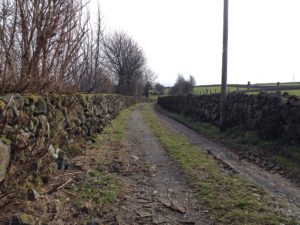 Nothing could ever be as delicious as Grandma's soda bread (cooked directly on the polished, black top of the wood stove) dipped in a thick Irish stew or served alongside corned beef, cabbage and fluffy champ (whipped potatoes mixed with cream, butter and green onion). But, I must say, that the food in Ireland far exceeded my expectations and during two weeks there in March 2017 I didn't have one single bad meal. If anyone had asked me before my trip to recommend some great "foodie" destinations, Ireland wouldn't have been on my list, but it sure is now!
All of this exposure to "things Irish" while growing up sparked an interest in reading about the various branches of our family tree and my relatives on both my mother and father's side of the family. To finally get to visit this amazing land where my Grandma Hannah grew up (and all of my ancestors, in reality) was a truly moving experience. I had the great fortune to meet a 3rd cousin who still lives in Broughshane, and she toured me around the countryside and talked about who lived where, and regaled me with lots of stories of family members, neighbours and friends. To go to the family farm where Grandma was born and raised and to stand on the ground where she would have walked every day of her life there, to see the stone fences she would have helped build, to look across the green fields to Mt. Slemish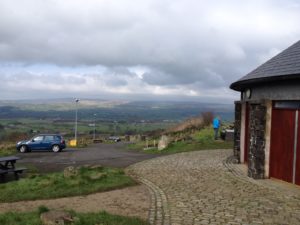 beckoning in the distance and to visit the graveyard where my Great Grandparents, Great Aunts and Uncles and distant cousins have their final resting place – I felt a true, deep connection to my family's history and the legacy they passed on to me, that I now pass on to my children.
I would encourage everyone to look into your family tree and visit the places your ancestors came from. With all of the DNA kits now available, it's easier than ever to begin. It's a fascinating, soulful and life-altering experience and I hope to meet even more of my distant cousins in Ireland during many more trips in the future.