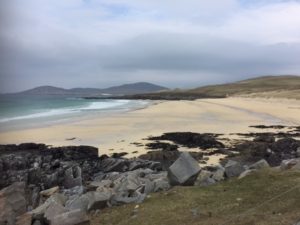 Who would have thought that in 2012, Luskentyre Beach on the Isle of Harris in The Outer Hebrides was voted by The Sun Newspaper one of the "Top Beaches of the World"? One thinks of the Caribbean, Floridian, Thai, Fijian sand beaches as being the most beautiful and softest sand in the world.  However, in the Outer Hebrides there are hundreds of stunning deserted beaches to walk along. I have been lucky enough to have walked on many beaches around the world but beach walking in the Outer Hebrides was a totally different experience. 
The endless solitude, the stunning turquoise waters, the ultra fine sand,  the numerous varieties of sea birds added up to a spectacular experience. The gale force winds, cooler temperatures and baaing sheep from the fields above was the only thing giving away the fact that I was in Scotland and not on a hot holiday.
The outer Hebrides are a chain of bedrock formed islands off of the North West coast of Scotland.  The 15 inhabited islands have a population of about 30,000. Sea ferries between the mainland of Scotland and the islands is crucial and the main form of transportation.  However flights are available from Glasgow and Edinburgh.
Beach exploring while visiting the Outer Hebrides is a must.