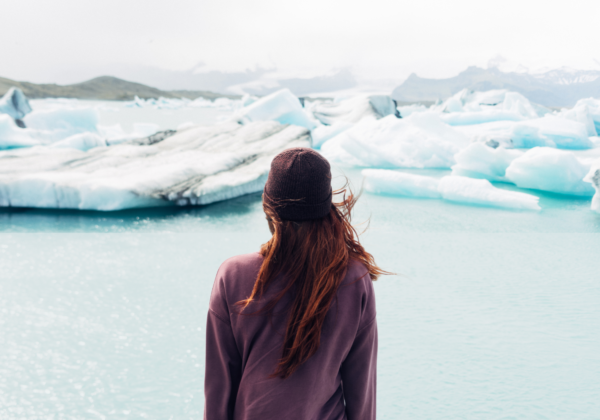 So you want to go to Iceland? Who wouldn't? Iceland is one of the most beautiful destinations we travel to, full of incredible scenery, culture, food and more.  The big question is – how do you plan a trip to Iceland.  Shauna Cook is one of our Travel Consultants here at Great Canadian Travel Group who has been to Iceland four times, ate the fermented shark (yes, this is a real delicacy in Iceland!), and has answered hundreds of traveller questions about trip planning. Here are some of the more common questions and answers to help you plan your Icelandic adventures with us.
*Revised May 2018 to update prime booking times and photos to show the beauty of Iceland*
Top 10 Common Questions about Planning a Trip to Iceland
What season should I travel to Iceland? Each season in Iceland has its own unique offerings, so planning ahead for what you really want to see is important.  For example, the 24 hours of daylight Iceland experiences over the summer means you will not see the Northern Lights. However, if you want to see Puffins, summer is the best season!   If you want to travel to Iceland in the winter, we recommend escorted tours or city stay tours, as self-driving tours can be challenging because the winter weather along the coast can bring damp, freezing weather and the occasional snow storm.   We're happy to give you an outline of what you will see each season and help you see exactly what you want to see!
How far in advance should you book a trip to Iceland? Travel to Iceland books fast.  If you want to travel between June and September you really should book early.  In fact, trips for the summer season (May through September) get started as early as the previous May or June!  If you don't want to start that early, we definitely recommend to book at least 6 months out – but the earlier you book, the better the chance we have of getting just what you are looking for. December to March is becoming more popular with travellers.
Tip: April –May and Oct-Nov are the easiest times of year to find space and to find more affordable travel rates.
What do you pack when you go to Iceland?  Simply answered – wear layers. Layers are good any time of year, but a good base layer to keep your body warm is important as the weather can get windy and damp.  Hats, gloves and scarves are always a good idea, and of course good walking shoes with treads are important.   Here's a tip to remember – even if the weather forecast calls for rain, we don't recommend bringing an umbrella. They're fairly useless in the Icelandic winds.  Save your money and just wear a good rain hat.
Do I need to bring a lot of cash to Iceland?   You don't.  While Iceland is up north, it is delightfully modern. About 95% of the items you want to buy you can buy with your credit card. You do not need to carry a lot of cash.  As Shauna says "I personally don't take a lot of cash up there, because when I'm leaving I end up trying to spend my Icelandic kronur (ISK) before I go home. I recommend taking a small amount of cash, but your credit card will do the trick."  Don't forget to check with your bank to learn about any foreign transaction fees you may be charged for using your card in Iceland.
Do I need to take adaptors for plug-ins in Iceland? While a lot of the newer electronics today have built in converters, you should still be prepared. The adaptors are standard European (50Hz, 220 volts), and will be needed for anything that will be plugged into the wall. Converters are required for laptops and hair dryers that require actual voltage to be converted.

Want to see the famous Icelandic horses up close? Click here.

Have you ever walked behind a waterfall to feel the mist on your face? Click here and you can!

Click here to see the Atlantic Puffins on Grimsey Island May – Septmeber

   

Tired of your New Year's routine? Click here to ring in the new year in Reykjavik

What will I eat when I travel to Iceland? Adventurous foodies will love Iceland! Exotic and adventurous food finds are everywhere.  Reindeer meat, fermented shark, even Minke whale, which is often served as kebabs or even as steaks (it is not an endangered species!) are some of the more odd food finds.   Skyr is another popular food you'll want to try.  Tasting a bit like a cross between yogurt and cream, this soft cheese is eaten all over Iceland and is a must try! Icelandic food is generally light, lower in fat, and the chefs in Iceland are doing amazing things with fresh vegetables.  If you are a pisco-vegetarian (vegetarian who eats fish) you will be a happy camper, my friend.  However, if you are vegan or have other dietary restrictions, we really advise that you let us know so we can still ensure you have your own culinary adventure in Iceland.
Is there medical care in Iceland? We always recommend travellers get travel insurance either through us or your own travel insurance provider.  If you are doing any kind of expeditions off the coast of Iceland, most companies will insist you have the mandatory evacuation insurance.  Most of the smaller communities in Iceland have small medical clinics. Iceland has an extensive medical helicopter service to take people to the main hospitals if necessary.  Bring your prescriptions and medications with you. If you have other medical concerns or physical restrictions, please talk to us about your plans so we can make sure you are comfortable.
Should you take your kids to Iceland?   Our answer is – why not?  While self-driving trips can mean longer days that may be a bit of a challenge for toddlers, there is so much to see in Iceland! Beautiful waterfalls, the coast line, and more!  We have had many travellers take their children to Iceland and return with great stories after great experiences.
Want to do something big in Iceland? There are a lot of great festivals and events in Iceland. Two of the most popular are the Icelandic Airwaves music festival in November and the Reykjavik Marathon and Culture Night in August.  New Year's Eve in Iceland is also incredibly popular. These events book far in advance, so we recommend you avoid disappointment and start planning! We would love to talk to you about all the great things to see and do in Iceland, so contact us and let us know what you would like to do and see.
Make the best use of a travel consultant rather than book your own trip.   As we said, our travel consultants have been there, done that.   We've been to Iceland, we know every corner of Iceland and we love Iceland!  It's what we do! We can tell you where to go to find a grocery store, which hotels have hairdryers, where to find a drug store, great museums, where to eat and more.  Why leave your vacation to chance?  Great Canadian Travel Group will be right by your side the entire time.
*Click on the photos and you will be whisked away to some of our best-selling Iceland tours.*
*If your question wasn't answered, contact Shauna with your questions and she'd be more than happy to answer you!*