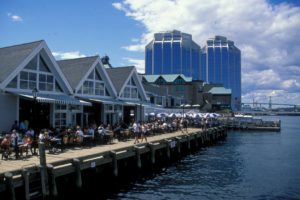 When attending travel seminars, there is never enough time to explore the destination in which you are visiting.  However, I always try and give myself at least one full day to explore the sites, pick up some souvenirs, and try the local cuisine.
This time it was Halifax, Nova Scotia and one day was definitely not enough.  I started my day with a Starbucks coffee, which was hard to find (definitely more pubs in Halifax than coffee shops).  Then boarded my half day tour to Peggy's Cove.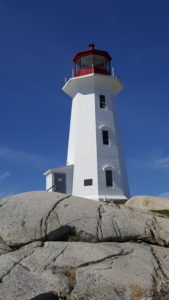 Located only 30 minutes from Halifax, the small rural community located on the Eastern shore is famous for Peggy's Point Lighthouse.  I thoroughly enjoyed walking through the small community, enjoying the colourful houses, and checking out the difference in lobster traps.  We then made our way over to the lighthouse to take some photos and enjoy the crashing waves up on the surrounding grey rock.  After spending about an hour walking around to explore and enjoying the fantastic weather, I sat and enjoyed a bowl of seafood chowder from the local restaurant and souvenir shop.
You can check out Nova Scotia on this great six-day tour! Contact us for more details.
After our visit to Peggy's Cove, we then made a stop at Acadia Maple for a short tour and some sampling.  Amazing products, such as syrup, sugar & spices, coffee, jams and sauces.  (best syrup that I have tasted)!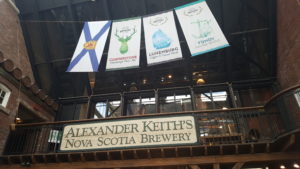 Once back in Halifax, I decided to head down to the harbour for a walk and some lunch.  The harbour was bustling with markets, and food vendors so decided to enjoy some fish tacos and an Alexander Keith's, of course!
After lunch, I continued my walk eventually winding up at the famous Alexander Keith's Brewery for an afternoon tour, which I would recommend to anyone that visits Halifax.  Founded in 1820, it is among one of the oldest commercial breweries in North America.  The lively tour includes history and artifacts, education on the brewing process, samples and great music!