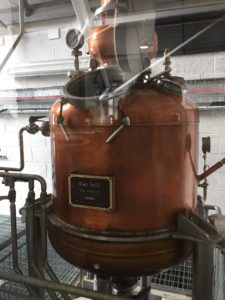 One thinks of the smooth, peaty, rich taste of Scotch when thinking of the alcohol of choice for Scots and the symbolic drink of Scotland. However the new trend is the distilling of gin. For hundreds of years Scotch has been distilled in oak casks in the Highlands of Scotland. It takes at least 3 years for a genuine scotch to be distilled and bottled, with the majority being distilled for far longer. Today, there are over 120 Scotch distillers in Scotland. 
However the new craze and buzz that is happening is the distilling of gin. There are currently 50 gin distilleries in Scotland with most of them opened in the last couple of years. The reason for this is that gin can be distilled in 3 days. Since it does not need to be fermented for years, the quick turn around enables it to be quickly put on the market. When touring the Outer Hebrides I visited the Harris Gin Distillery in Tarbert.

The taste factor in gin is the varied botanicals one blends into it. Juniper is the constant flavouring but everything from pepper, cucumber, citrus, to herbs and roots make the unique flavourings of gin.

One thinks of the classic gin and tonic as the most popular gin drink of choice. However with the influx of different gins on the market, the options are endless for "gin and tonics".
Not only is gin flavoured but many of many of the tonic waters are flavoured with different fruits, flowers and spices, all adding to the uniqueness of the drink. To finish off the perfect gin and tonic is the garnish. No longer is it just a lemon or a lime. Garnish might be grapefruit, strawberries, pepper, cucumber, jalapeños, lavender or mint. With all of the options that are now available with the making of a gin and tonic the options are limitless.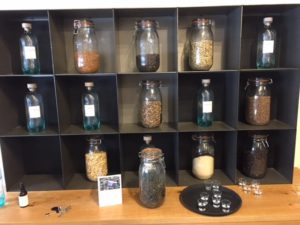 This photo shows the botanicals that are distilled in Harris Gin. Juniper berries, sugar sea kelp and citrus are what give its unique tasty flavor. The unique glass bottle that looks like a sea glass adds to its allure and popularity.
If you'd like to experience this mysterious and wonderful destination, ask us about our Outer Hebrides tour!
My trip to The Outer Hebrides in the North of Scotland introduced me to new and delicious treats. I can hardly wait for my first summer gin and tonic.  The only question is, with what will I garnish it?