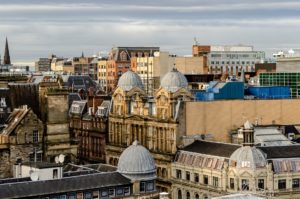 When in Glasgow last month I had an evening to myself to enjoy the city. Being a solo traveller, I was not thrilled about sitting in a restaurant on my own, so I decided to find something unique to do. I had done walking food tours in others cities, so I was thrilled when I booked a tour with Walk Eat Glasgow.  
I met Oz, my tour guide, at Glasgow Central Train Station in downtown Glasgow. For the next 3 hours, we walked and toured the downtown area of the city. Oz told me many interesting facts about Glasgow and shared his knowledge of the varied and stunning architecture found in there.
We stopped at five delicious and different restaurants along the way. Since I had mentioned that I had no allergies or dislikes I enjoyed many different Scottish delicacies. As an extra bonus, 3 of the dishes were paired with an alcoholic beverage.
My first visit was at Alston Bar and Beef.  This restaurant is actually located under the train station. The richly lit white brick venue added to the ambience. I was served scrumptiously tender beef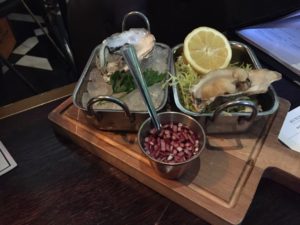 tips.
Our second stop was at Hutcheson City Grill.  It is a multi storied restaurant in a classic 19th century building. I enjoyed 2 oysters prepared 2 different ways. The glass of champagne was a lovely accompaniment.
We then continued to Babbitty Bowster.  This local pub/restaurant offers traditional pub fare and drinks. When I heard that I was being served haggis I was a bit hesitant, since I was not a fan of it when I had had it before. However the haggis, neeps and tatties (turnip and potatoes) was delicious.  I am not a huge scotch fan so the dram of scotch was not my favourite part of the meal. However, I know it was enjoyed by many. FYI for those who are vegetarian, They even have vegetarian haggis as an option.
Oz and I continued along our way to Cafe Source. The uniqueness of this stop was that it's in the basement of a church. Here, I had a plate of delicious local cheeses and bread, which was deliciously accompanied by a half pint of local pale ale.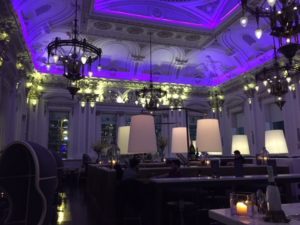 Our final, and most elaborate, stop was at Tellers Bar and Brassier in The Corinthian Club. This stunning romantic restaurant with it domed ceiling and ornate decor is breathtaking. The cozy booths and lighting adds to the stunning ambience of the restaurant. I thoroughly enjoyed my final tasting of the tour in such an elegant venue. Here I enjoyed Cranachan which is a typical Scottish dessert made from whipping cream, fresh raspberries and oatmeal that has been soaked in whiskey. This scrumptious dessert topped off a wonderful food tour of Glasgow.
I would highly recommend joining in on a walking tour of Glasgow.  Walk Eat Glasgow did an excellent job of touring me around, introducing me to many local delicious treats in five wonderfully different venues. The knowledge I learned about the architecture and history of Glasgow was top notch and "icing on the cake", so to speak!