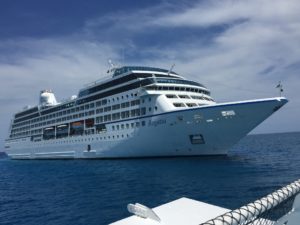 There are many advantages of taking a cruise. You can experience the open sea, some of a country's finest harbours, and learn about different cultures. You can sit at the Captain's Table, you only need to unpack once, and you can choose to do as many or as few shore excursions as you like. The size of ship makes a difference as well, and here at The Great Canadian Travel Group, we know cruising. 
Here are some advantages of small ship sailing:
There are rarely, if any, lines to embark & disembark. They are handled smoothly and efficiently due to the lower number of people on the cruise
Getting up early at an all-inclusive resort or on a bigger ship just to put your towel down to "reserve" your deck chair doesn't exist on these small ships. There is no racing for deck chairs, in fact, there is no problem accessing deck chairs or a bed (unless they are in the shade, then it's a little more difficult)
There are no long lines for the buffet or accessing the dining room
There are high levels of personal service with a high staff to guest ratio. The staff make a point of remembering your name and meal preferences. They might even suggest you try something new off the menu or just bring it to you when they get to know you better.
If making friends is on your to-do list, it's easier on a small ship because you often run into the same people onboard
Small ship cruises are often destination focussed with access to smaller, less used ports
Smaller, less used ports makes for mostly smaller crowds at the destinations as compared with ports with larger cruise ships where four or five larger ships are docked and the city and beaches were overcrowded
It is a more intimate experience, with a cozy atmosphere. The smaller bars, libraries, etc. are more relaxing and less noisy
There are still many of the same amenities as a larger ship (i.e. casino, spa, gym, library, daily events – lectures, trivia games & cooking demonstrations)
Oceania, the cruise we went on, had solo traveller events to make solo travellers feel welcome and at ease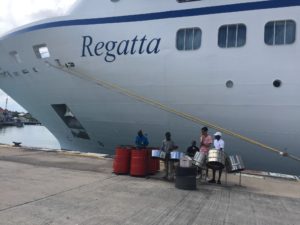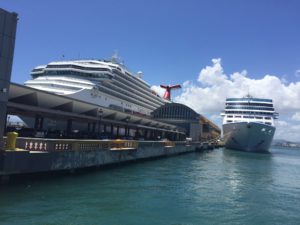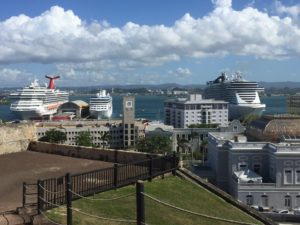 Whether you like to cruise large or cruise small, there are many options from which to choose. We can help you embark on an adventure of a lifetime. Contact us for more information.