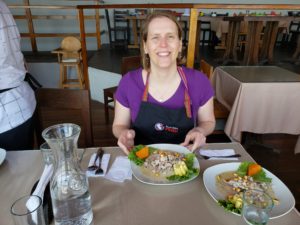 My Spanish teacher Renato, who is originally from Peru, has been telling me for four years how great the food is in his home country. After my recent trip, I can confirm that's true.
There are some dishes specific to certain regions but many that are widely available in most restaurants throughout Peru. Each time I encountered a dish that Renato had mentioned, I was excited to try it.
Lomo saltado is essentially a stir-fry of beef, peppers, onions, and tomatoes served over rice and topped with a fried egg, ​with a few French fries on the side as a garnish. I ordered lomo saltado my last night in Cuzco and it was delicious. The next day during the second half of my culinary tour, I was thrilled to find we were going to cook chicken saltado. I was surprised at how easy it is to prepare, and how such simple ingredients can be so tasty.
Alpaca is slightly gamy, but is quite similar to beef. ​I ordered alpaca tenderloin at Nuna Raymi in Cuzco. ​The tenderloin was very tender indeed, and the spaghetti with balsamic vinegar and fig reduction that complemented it was scrumptious.
Cuy is Guinea pig. To use a cliché, it tastes like chicken. It also is a little like duck, as cuy is all dark meat and is fattier than chicken. The quinoa risotto that accompanied the cuy was very flavourful. Cuy is tasty but several of us agreed that it was a little too much work for the amount of meat on the tiny bones. At Nuna Raymi, where I tried cuy, the alpaca entree was the same price so it was a better value than the cuy.
Chicha morada is a drink made from purple corn. Other ingredients are added to 'juice' of the purple corn, such as pineapple, sugar, cloves, and cinnamon. My first sip of chicha morada recalled the glögg (mulled wine) that my Swedish cousin Sara served us during her visit to Canada a few years ago. Chicha morada differs from chicha de jora, a Peruvian corn beer, in that it is not fermented. With no alcohol content, I could drink as much as I wanted without worrying about becoming tipsy!
Rocoto relleno is a spicy pepper stuffed with ground beef, olives, cheese and spices. I've had similar dishes here in Canada, but the one in Peru was much tastier, perhaps because of the setting. Just be careful you don't find the jalapeño! One of my tripmates was surprised (to say the least) to discover the spicy kick in their pepper, and had to drink copious amounts of water. I was fortunate enough to avoid that experience.
Ceviche and la causa were my two favourite dishes. Ceviche was the surprise, because I didn't expect to enjoy what is essentially raw fish. It turned out to be refreshing and flavourful, and I loved it.​ I ordered it several times during my stay in Peru, and was never disappointed. La causa was as rich as Renato promised, although I found the full-sized dish I ordered at Tanta too big for one person. The appetizer-sized causitas (little causas) served at G Adventures-supported Parwa restaurant were just the right size. ​​(Read my earlier blog describing these dishes here).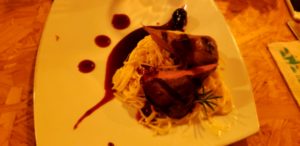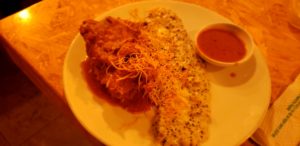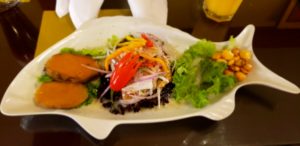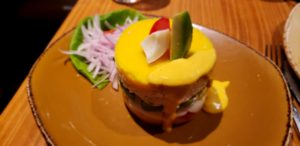 Peru has come to have a reputation as having one of the best cuisines in the world. Peru was named the top culinary destination of 2017 by World Travel Awards, and Lima has three restaurants on the list of the World's 50 Best Restaurants. I was fortunate enough to eat at many renowned restaurants, including El Mercado, which was deemed to be one of the best restaurants in the world by Condé Nast Traveller magazine for 2017. Although I have a decent grasp of the Spanish language, this was one restaurant where I sheepishly had to request the menu in English. Otherwise, it would have taken me hours to translate the unfamiliar words on the very extensive menu. Even in English, it took me quite some time to decide on one entrée, one drink, and one appetizer from all the fabulous choices. The food was superb, and even though I was getting full, I couldn't pass up dessert.
In approximately two weeks in Peru, I never had a bad meal. I had one meal that was below average and one that was average, but those were the glaring exceptions. The rest of the time, I had fantastic meals, even when hiking in the Andes, when the cooks didn't have a modern kitchen at their disposal.
Renato was definitely right! Peru is certainly a foodie destination.